Last week, I recieved my first payment from Squidoo!
I currently have 20 Squidoo lenses, although when I got paid I had 18. My Squidoo earnings for the month were $8.25 and my total Squidoo earnings (what I got paid) were $12.42.

Yes, that is in no way, shape, or form BIG MONEY!
Currently, I think of Squidoo as part promotional tool, part money making tool. I have talked in the past why it is a good promotional tool (click here to read more about Squidoo as a promotional tool). Now I want to talk about it as a way to make money online.
Here are a few observations I have made about making money with Squidoo:
1. Make Lots of Lenses
It seems fairly obvious, but the more lenses you make the more money you should make. This is true of normal websites as well. In general, the more content you have the more money you will make.
2. Join Groups
Typically the lenses that I make that have made the most money have been part of a popular Squidoo group. Squidoo groups are basically groups of related lenses. You can either create your own groups or join other people's groups. If you create your own group, it definitely takes up more of your time because you have to accept and reject lenses that want to join your group. However, having control over popular groups can be useful.

3. Do Keyword Research
Create lenses on popular topics to maximize your profit potential. The lenses of mine that have made the most money, also happen to be the ones that deal with more popular topics.
4. Add More Tags
When you initially create a new lens, you can enter three tags for the lens. These tags are keywords used to categorize your lens. Your lens and other related lenses have links to these tag pages. The tag pages link back to all of the lenses that use that tag. This means that when you create a new lens your lens automaticly gets links from the tag pages on the Squidoo site. In other words, the more tags you create for your lens, the more links you will have to your lens.
Don't go overboard with the tags, but add more than three.
5. Create Quality Content
The lenses that make me money, tend to have more content than the lenses that don't make me money. Also, the lenses with interactive content (allows users to add links, etc), tend to have more traffic. Content is still king.
Also, I found a really good Squidoo lens about making money with Squidoo. It includes information on how your earnings are calculated. You can click here to read it.
For further reading on Squidoo, here are my past Squidoo posts:
My First Squidoo Lens – Big Money from Loan Refinancing?
How Can Squidoo Increase Website Traffic?
The other day I came across this really cool site called Killer Startups. The site allows you to submit your startup web business to it and then users vote on their favorite submissions.
I think Killer Startups is really a "killer startup" website in and of itself. I also think you can use it to keep an eye on what online businesses people are starting up, which online startups people like the most, and to help you brainstorm startup ideas of your own.
Anyway, you can go check it out by clicking here and voting on your favorite sites.
I just came across a blog that has managed to be listed in Technorati's top 100 most popular blogs in less than 7 months!
The blog I found is Brian Gardner's blog. Brian even wrote this post about reaching the top 500 and how he was on his way to the top 100. Well now, Brian's blog is all the way up to 71 and climbing.
How did he make it in to the top 100 so fast?
Brian designs really nice free wordpress templates. In fact, he has 14 free wordpress themes so far! At the bottom of each theme is a link to his blog. When people use one of his themes, they are linking to his blog from their blog. Technorati's rankings are based on the number of links other blogs have to your blog. So, in Brian's case he is getting tons of links from other people's blogs, which is quickly raising his Technorati ranking.
What a brilliant way to get on Technorati's top 100 list!
Anyway, if you want to do what he has done, just follow in Brian's footsteps:
1. Create lots of free wordpress themes or hire someone to create them for you.
2. In the footer of each theme, have a link to your blog.
3. Submit your themes to all the free wordpress theme sites and theme viewers out there.
4. Watch your blog climb the Technorati ranks.
That's all there is to it…
I have been ill this week (along with the rest of my family) and haven't had time to do my normal reading. I only managed to read a handful of blog posts this week. I will have to catch up next week.
Here are a few blogging related posts that I read this week and found interesting:
10 Requisites for Professional Bloggers
10 (+5) Requisites for Professional Bloggers
How to Run a Blog Competition to Find New Readers and Make Your Blog Sticky
The Resource Linkbait – Using Lists to Build Authority, Traffic and Links to your Website.
I am done creating anything that is boring on the Internet (well mostly done). I can't think of one blog or website that I visit on a regular basis that I consider to be the least bit boring.
Whenever I get bored with a website or blog, I stop visiting it.

One of my BIGGEST goals in 2007 and beyond is to be remarkable, and to NOT BE BORING!
You should make it one of your goals too! Stop being boring! Nobody cares about boring websites except their owners. Just stop it!
Be remarkable, Be exciting, Be interesting, Be unique, Be everything you want to be, but…
DON'T BE BORING!
Last week, I asked Daniel Scocco of (Daily Blog Tips and Innovation Zen) if he would let me do a quick interview with him.
For those of you who don't know this, Daniel was nominated for the 2007 weblog award for Best Web Development Weblog.
Daniel agreed to the interview and it is my pleasure to share it with you. I am sure it will be of benefit to those of you just getting started in the blogosphere.
Q. What were the first thoughts that went through your head when you found out?
I discovered the nomination looking through my server statistics. There were 27 visitors coming from the Bloggies website. The interesting thing is that the nominations probably were released one hour or so before my server uploaded the statistics, hence why I had only 27 visitors. The next day, in fact, I received almost 1000 visitors from the Bloggies. It was quite a surprise to me, specially when I discovered the blogs that I was competing with (i.e. Problogger, A List Apart and Copyblogger).

Q. Why do you think your blog was nominated?
Sometime ago I had published a post about the Weblog Awards, with a link where people could go and nominate their favorite weblogs for different categories. I think that some of my readers headed to the website and nominated Daily Blog Tips, and probably I was also lucky for having a couple of more votes than the runner up. Either way I am really thankful for the people that contributed to it.

Q. How did you get started in blogging?
I have always played with websites when I was younger, but I never had the time to create and actually publish them. Early in 2005, however, I came across some articles outlining the benefits of blogs and explaining how easy it was to setup one. The next day I registered for a Blogger account and created a blog to share my ideas about innovation management (most of them were coming from my thesis).

Q. What do you like most about blogging and why?
In my opinion the Internet used to be a monologue until a couple of years ago. You had big portals providing information for the people, but the flow of information was unidirectional. The appearance of blogs, in my opinion, contributed to change that scenario. Nowadays you have this huge conversation going on across the Internet, which creates much more value and opportunity for everyone.

Q. If you could only give one piece of advice to someone just starting to blog what would it be?
I am afraid I will need to use a cliché here, but the single advice I would give to someone starting out is: content is king! You surely can (and sometimes should) pay attention to the design, search engine optimization, promotion and so on, but if you have great and original
content the readers will come and so will the links.

Q. In your opinion, what is the most crucial element of a blog post?
Well it is difficult to nail down THE most crucial element, but if I had to I guess I would say the title. Titles play a very important role on the reader decision about reading the post further or just skipping it altogether. Other important elements are: the post should be scannable, should not contain grammatical errors and should go straight to the point.
Q. Is there any other advice you would like to share with people looking to start a blog?
Start it today. Everyone commits mistakes, but the sooner you start the sooner you will learn your way through.
I discussed my early opinions about MyBlogLog last week. Shortly after publishing that post I found out that Eric Marcoullier (one of MyBlogLog's founders) and copywriting guru Michael Fortin visited my blog.
How did I find this out?
By looking at the MyBlogLog widget on my site. Here is a picture that I screen captured of their profiles (circled) on the "Recent Readers" widget for this blog: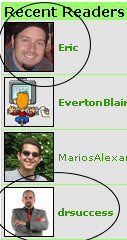 Apparently, I am not the only one who saved a screen shot of my recent readers list. Rob saved this screen shot of my recent readers, because Darren Rowse of Problogger visited my blog and Darren's picture just happened to show up right next to Rob's icon in my reader list.
I really like the networking aspect of MyBlogLog, but from a "Hey that's cool!" aspect the "Recent Readers" widget is coolest. While it does take up valuable real estate on your blog, at this point I think the "coolness" factor outweighs that.
What do you think? What is the coolest feature of MyBlogLog to you?
Here are some interesting Internet Marketing articles that I read this week. The first post by copywriting guru Michel Fortin is a MUST read for bloggers. Not only does he give good advice, but he offers to rewrite one of your blog headlines for free!
Are Headlines Tangling Your Readers?
Don't Be The Best… Be The First!
What ProBloggers Can Learn from TechCrunch 20
Campaign to Reduce Wikipedia's PageRank to Zero via (jazzcatseo)
The other day, I decided I would do a quick experiment with MyBlogLog. For one hour, I visited as many profiles as I could. Added contacts and joined communities. In that hour time period, I added 19 contacts and joined 23 communities. (I meant to add more contacts, but I must have messed up).
According to my web server's statistics program, I had 10 new visitors from MyBlogLog. Not exactly awe inspring, but it could be if you are a beginner. Overall, my traffic from MyBlogLog has been ok. It is in no way, shape, or form the best way to increase your blog traffic.
However, there is a really good reason to use MyBlogLog…
My primary reason for joining MyBlogLog, was to build new online relationships with bloggers who write on similar topics to mine. During my experiment, I found some really excellent blogs that I had never seen before. Overall, I think it is a very useful website if you are a blogger.
That said, I would not recommend you spend hours every day on it unless your goal is to get publicity for having the most contacts, or the most community members, etc.
I think that MyBlogLog can increase your blog's exposure. However, when all is said and done, long term sucess on the Internet is all about content.
CONTENT is KING!
If you have excellent content, you are going to get links from other people, your visitors are going to keep coming back, you are going to make money.
So here is my recommendation:
Instead of asking yourself, "How many friends can I get on MyBlogLog, ask yourself "How can I create AWESOME content?"
My guess is that answering the latter question, will be much better in the long run.
I just recovered a couple of people's comment from the WordPress Akismet spam folder on this blog.
Sometimes I forget to check through it, because quite frankly it's boring and tedious. I can't just leave it alone, because I find that about 1 legitmate comment gets marked as spam by Akismet for every 100 comments that are marked as spam. Akismet does a great job of catching spam, but it's not perfect.
If your comment is ever put in moderation on this blog for a long time, you can just assume that Akismet ate it. If that's the case, email me at info @ mantyweb. com and I will try to recover it.
The latest comments to be eaten by Akismet on my blog were from Daniel and DotMySpot.
PS. Daniel, I plan on posting a response to your question, when I do more experimenting with MyBlogLog.
I thought I would send out some of my favorite Internet Marketing blog posts from the week (in no particular order):
How to Make the Technorati Top 100,000 in 90 Days
Yaro's recent blogging series (which I consider a must read for bloggers, because what he says is something I started realizing towards the end of last year):
Is Professional Blogging A Sustainable Business Model?
Do You Have What It Takes To Be A Professional Blogger?
The Advantages Top Bloggers Have That You Don't
The key resource for a sustainable blogging business
And for some fun:
I just added MyBlogLog's recent readers widget to the right navigation of my blog. If you have a mybloglog account go add me as a contact/friend by clicking here and clicking the "add as contact" button.
I look forward to networking with you on myBlogLog.