Without the proper choice of keyword(s) for your link building it is almost impossible to see Google page 1. No matter how hard you try to do that.
I have enough experience to say it, because I pushed lots of personal sites to Google page 1. And I am also the owner of the community where thousands of people are building backlinks every day – and this gives me huge data that helps to see who gets page 1 and who fails.
That is why, let's start with a statement…

Wrong Keyword Choice – No Google Page 1!
The right keyword for the link building is a keyword with:
(a) stable search demand
(b) low link building competition
And around 70% fail to choose keywords for their link building correctly
. They simply rush to build as much as possible, choosing very competitive keywords like "make money" or "loans" or "weight loss" WITHOUT understanding that sites on Google page 1 for these keywords have dozens and hundreds of thousands of backlinks.
So, in this publication I am going to give a free guide – how to find reasonable keywords for link building. The keywords for which you can get page 1 realistically and within quite a short period of time.
Question 1 – What Keyword Research Tool to Choose?
There are lots of keyword research tools on the market, but you do not need 99.9% of them.
Start from a simple question. Who can be the best provider of the search demand information? Search engines!
Unfortunately Yahoo stopped giving away its search info to open public. Who is left? Google!
I do not want to say anything bad about other tools. But you need to understand that: EITHER these tools take their info from Google OR they have a much smaller database of searches (and this is bad).
I will give just one example. There is a very famous keyword research tool WordTracker, very famous. Do you know where they take their search info from? Go to About page of their site where they officially say "All search terms are collected from the major metacrawlers – Dogpile and Metacrawler."
Can Dogpile + Metacrawler compete with Google when it comes down to the search volumes? No. Who has a bigger data of search demand? Google, beyond any doubt. You need to have access to as many keywords as possible to make a proper choice.
That is why – I am personally using free Google keyword research tool that is here https://adwords.google.com/select/KeywordToolExternal
When choosing the keywords with the help of Google keyword tool, make sure to choose "Show Search Volume Trends" in the dropdown menu (shown on the screenshot below), this will show you if the keyword that you are going to choose has stable search demand or not.
As the results from link building are not quick (because SEO is not quick), it is much wiser to focus your link building attention on the keywords that have stable search demand, and "Show Search Volume Trends" will help you to see that.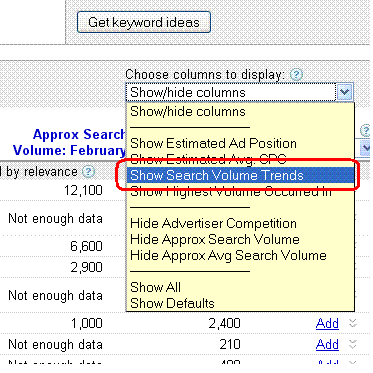 So, when it comes down to the keyword selection your goal is to choose the keywords with highest stable search demand.
BUT…
Each of these keywords is considered to be realistic only when it has moderate link building competition, and this is where we come to another question.
Question 2 – How to Check Link Building Competition?
It is simple, because Google gives us the tool to see how many web pages are building backlinks for the same keyword or keywphrase that you plan to target.
All you need is type into Google the following phrase:
inanchor:"your keyword here"
This is a sample of inanchor check for the phrase "keyword research tool"…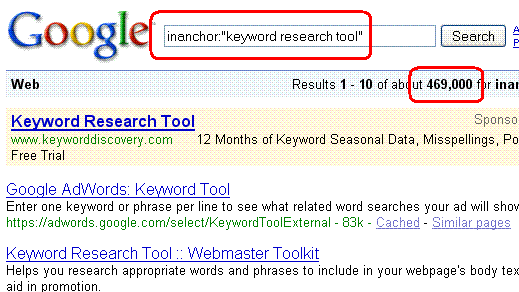 As you can see – 469,000 web pages have backlinks with "keyword research tool" in the anchor text of the backlinks. These are your DIRECT link building competitors for this phrase, and you need to beat all of them – then you will get to the top in Google search results for this phrase.
So, with the help of inanchor you can check the link building competition for any keyword or keywords.
Question 3 – Ok, I Know Search Demand and inanchor – How to Find Reasonable Keywords?
Your ideal keyword for link building is the keyword with ZERO inanchor and maximum search demand .
But zero link building competition is very rare, especially for the keywords with serious traffic.
My personal experience is that any keyword with inanchor less than 1,000 pages is "doable". So, everything that is under inanchor 1,000 and that is ok in terms of the traffic is a reasonable keyword for link building.
That does not mean that keywords with inanchor over 1,000 are a taboo?
No!
I had experiences of getting page 1 for the keywords with inanchor competition over 10,000,000. And not only me, the members of my link building community as well. But to get page 1 for that keywords you need to build a good portion of quality backlinks every day. This becomes part of a daily routine that you are doing to push your business to page 1 for very tough keywords.
Not everyone has enough guts to be building backlinks daily, for 3-4-5 months, and only then see the results of this work. The traffic for that keywords is worth the job, but the job is not easy and don't kid yourself that is can be easy. This is SEO, this is not a lottery.
That is why, reasonable keywords with inanchor less than 1,000 is a perfect fix for the people who hurry up to see their sites on page 1 and start getting targeted traffic.
And if you want the traffic from tough keywords – well, welcome to the club of the link building zealots 🙂

Reasonable Keywords + Smart Link Building = Google Page 1
About author:
Nick Bokhonok – inventor of Internet marketing and

SEO

tools since 2000. His new community www.FreeTrafficSystem.com helps people to build unlimited one way links for free.

A little while back Google released what is now known as the Google Search Wiki. Anyone who is logged into their Google account can search Google and vote on the website results that Google displays. It's very similar to the voting that takes place on most social media sites.
Since announcing the Search Wiki many bloggers have speculated that Google will use it to alter Search Engine rankings. The theory is that sites that get more votes will rank higher then those that don't get many votes. It makes a lot of sense, but I have a different view about what Google will do with the voting results…
I think Google will use the voting to LOWER rankings of websites that get voted on too much. And here's why…
Google doesn't want webmasters to manipulate it's Search Engine! The Google Search Wiki provides a great opportunity for Google to catch webmasters manipulating it's results. Most webmasters have a Google account either for Adsense or Adwords or both. Google can easily monitor those people most likely to abuse the Search Wiki (webmasters with Adsense and/or Adwords accounts) to see what sites they are voting up and down. Since Google has made it known on many occasions that they don't want webmasters to abuse their system, my guess is that Google is monitoring Adsense and Adwords users voting and lowering the rank of the sites they vote on.
Do I have any evidence of this?
Not really, it's just a hunch. However, when the Search Wiki first came out I voted for a few sites and the only change I saw was a slightly lower ranking for those sites that I voted up. It seemed temporary though because the rankings returned very quickly.
Another thing that makes me suspicious is that when Google Knol first came out, I tried it, and the next day the site I promoted on a Google Knol dropped from being in the top 10 for a REALLY good keyword to being on page 10. This could have been a coincidence, but I doubt it.
This is just my personal speculation on the Search Wiki, but based on my experience I suggest that you don't try to game the Google Search Wiki. If you are going to try to rank high in Google stick to getting quality links with relevant anchor text to your website. That's still the best way to do it.
The best way to consistently make money online is to get to the top of the search engine results (mainly Google) for the top keywords related to your website. And the best way to get to the top of the search engine results is by having a lot of keyword anchored backlinks pointing to your website.
This has always been the case but most people have forgotten this simple fact because they are too busy trying to get traffic from social networking sites. The problem is that the traffic you get from social sites is either completely worthless or very close to it. How much money have you actually made from traffic as a result of social site? I bet it's very little! Now compare that to the people who own the sites in your niche at the top of the search engine results who are making a ton of money every day.
Let me ask you this question…
Would you rather work your butt off every day trying to get a bunch of traffic from social sites and make a little bit of money from it, or work your butt off for a few months to get high search engine rankings then sit back while you make a lot of money every day?
I will assume you picked the latter unless you enjoy working 24 hours a day!
Let's say your website (or blog) is about making money online. You will want to be ranked on the first page of Google for several keyword phrases related to your niche. For this example some of the main ones would be:
- Make Money Online
– How to Make Money Online
– Ways to Make Money Online
– Making Money Online
– Make Money Online Free
You can use the free Google keyword tool to find as many as you want.
Now, that isn't exactly the best example because it's very difficult to get to the top of the search engine results for make money online related keywords. However, it's not so hard in smaller and less competitive niches. I just chose MMO because it's an easy one to use as an example.
How do you get those rankings?
You get them by having a lot of keyword anchored backlinks!
A keyword anchored backlink is a link pointing to your website with your main money making keywords as the text of the link. A good one would be from a high quality, high ranking, high page rank website related to your site, but almost any keyword anchored backlink is better than none.
You can get these links a lot of different ways… link exchanges, guest blogging, forum signatures, directories, article marketing, do follow blog comments, some social bookmarking sites, testimonials, contests, and several other ways.
I won't go in-depth about any of these link building methods because there is plenty of information out there about them already and this post will be way too long if I explain them all.
Honestly making money online is not very complicated. All you have to do is rank at top of Google for as many keywords as you can, add ways to make money to your site, and watch the money roll in. It takes hard work to get there but it's definitely not complicated.
So, make this the year you really break out and start making the kind of money you always dreamed of. Get started on gaining backlinks right now so you can dominate the search engines!
You've heard great things about link trading, right? Well, I have too, and I'm sick of it.
When I first started building sites, I thought it was what I needed to do. A lot of hours and much frustration later, I accomplished next to nothing. Not only that, but I learned there were better ways to get back links, and realized just how much time I had wasted. For those of you that aren't yet as convinced about this as I am, I present to you the 10 things I hate about link trading.
1.) I spent lots of time for little gain. Yes, they put my link on their related link pages, and I put their link on mine. Of course, that was when they bothered to respond, or actually knew how to alter the HTML of their own sites to do that. Some just didn't care if they ever posted my link, and after a lot of wasted correspondence to them, I wound up taking theirs down. This is not my idea of time well spent.
2.) Link trading services aren't much better. Yes, you can put your link in a marketplace and have people look you up, but the end results are still the same. Plus, the service sends you email asking you to upgrade to the paid service, which will cost you money to do more of the nearly nothing link trading accomplishes.
3.) I didn't get jack for traffic. Oh, there were a few exceptions, but for the most part, no traffic. Seriously, when was the last time you went to a web site and thought "Oh, the first thing I'm going to hit is the related links page?" Neither does anyone else.
4.) Related links pages don't have the same page ranks as the home page. I don't know any exceptions to this rule. Don't even take the time to believe that your link is going on the home page. Unless you can make a blogroll, that's probably not going to happen.
5.) You don't know if you're going to be cheated or not. Yes, your link page could be nice, well organized, and short enough so that it's not mistaken for a link farm by a search engine. Do you know your trading partner will have the same? Do you know they'll even have a clue?
6.) Two-way link trades are discounted in the search engines. Nowadays, search engines aren't giving as much weight to them as they once did. They even have services that do three-way link trades now to get around that. Still, how long do you think it'll take some engineer at Google to crack three-way link trading and get their happy little spiders to discount them too? It's going to happen sooner or later.
7.) One way links are better, and you know the sad thing about them? They're easier to get. You just trade some content for them with a little tried-and-true tactic called article marketing. You do less work for more gain, because once you've taken the time to create a good article and post it to some free article sites, it'll spread on its own over time.
8.) There's way too much effort being put into this now-worthless tactic. There are two-way link trading automation scripts. There are two-way link trading services. There are scripts to insure that if someone trades a link with you, they don't cheat you. And they're all a waste, because two-way link trading is miserable.
9.) There are ways to make your links go viral that take less time and effort. You can put them into YouTube videos. You can write viral reports around them. You can create cool content, put it on your web page, and have it bookmarked into a site like Digg. If you do a good job, any of it could go viral. If that happens, tons of people will see your link, and you won't have to spend any time wondering why no web masters ever answer your emails. Ever do that with a two-way link trade? Not a chance.
10.) You might get so frustrated by the futility and low payoff of two-way link trading that you'll write a rant about the 10 things you hate about it. You'll really know you're in trouble then.
As far as I'm concerned, two-way link trading is a waste of your time. There are better ways you can do more and get you better links for less time and trouble. Those tactics are all I ever use anymore, and I get more traffic now than I ever did tormenting myself with link trades.

Have you ever wondered why you can go to your favorite search engine and search for highly competitive keyword phrases such as make money online, internet marketing, work at home, home business, or other similar phrases, only to find that the top results come up with many sites that don't really have a lot of quality content and aren't updated very often?
Isn't frequently adding content to your blog or website the only way to get a lot of traffic and high search engine rankings?
I am sure you have been led to believe that content is all that really matters and you need to constantly update your website with fresh content, and doing this will bring in tons of traffic and will result in you making a lot of money. I know this is definitely something that most bloggers and website owners have been taught by the so called experts and gurus.
So why hasn't that worked for you up to this point?
The reason is very easy to explain… It's because content really is NOT all that matters! In fact, inbound links are just as important as content and are even more important when trying to rank well in the search engines. What you have been taught up until now is not entirely true!
New bloggers and website owners have it imbedded into them that they need to update their blogs and/or websites all the time with new original content. And while this is true to some extent, it really isn't necessarily the most important thing and it is definitely not all that matters.
The reason so many of those sites you see ranking at the top of search engines for competitive keyword phrases are able to do so is because they spend a lot more time getting keyword rich inbound links instead of posting new content every day.
Now don't get me wrong, updating your site with quality content is a very good thing to do but it doesn't need to be done nearly as often as you might think. Content does help with your rankings and it is needed to keep visitors at your site once they are there. However, the most important factor for obtaining high search engine rankings and maximizing your traffic is to get as many inbound links as you can.
You must also remember that quality is ALWAYS more important than quantity when getting backlinks. Yes, you want as many as possible, but 10 home page links from high ranking authority sites in your niche will do more for you than 500 links from crappy unrelated sites.
Basically what I am trying to say is that you should continue to add quality content to your site when needed but you should spend a lot more of your time on getting backlinks and you will see a far greater return on your traffic, rankings, and profits!
I just got back from a short hiatus and I can't really say that I missed the Internet all the much. In fact, I had an AWESOME time and look forward to getting away from it all again.
Anyway, I am a bit late on this, but I wanted to quickly let you know my thoughts on "The Net Effect and Stomping the Search Engines 2".
The Net Effect Review
The Net Effect is an Internet marketing magazine put out by the folks at StomperNet. The articles in the magazine were loaded with good information for beginners and those new to making money online. In my opinion, the best feature of the magazine is at the end. At the end of every magazine there is an action plan for implementing what you learn in the magazine. The action plan sets "the Net Effect" apart from many of the other internet marketing magazines/newsletters that I have subscribed to and I expect many people to copy this model in the future.
Overall, I recommend The Net Effect for newbies looking for solid information on Internet marketing.
The BONUS
When you sign up for the free trial version of the Net Effect, you can also get a copy of the Stomping The Search Engines 2. All you do is pay for the cost of shipping and handling. Since you will be getting both products for shipping and handling here are my quick thoughts on Stomping the Search Engines 2:
Review of Stomping The Search Engines 2.0
Stomping the Search Engines 2.0 has excellent information on how to increase your Search Engine traffic.
Stomping the Search Engines 2 is EXTREMELY different from the first version of Stomping the Search Engines. The biggest difference is that version 1 was all audio and version 2 is a video course. Additionally, it is NEW and therefore covers the most up to date Search Engine strategies for getting high rankings.
Just like The Net Effect, Stomping the Search Engines version 2 is a good product for beginners.
If you are an advanced level marketer your time will be better spent on continuing to build your business. However, I do recommend that beginners go check out this deal, because the price for the first edition of The Net Effect and Stomping The Search Engines 2.0 is definitely worth it.
Click here to check it out for yourself.
Next Monday is a holiday in the US called "Labor Day". In honor of the holiday, I'm going to take a few days off and won't be working on the business until late next week. However, before I take a break I had to let you know about three cool resources I learned about this week. So, in no particular order, here are the three resources you should go check out:
1. Yanik Silver's Underground Online Seminar Best of The Best
Yanik has taken the best footage from all of the previous underground seminars and combined them into a "best of the best" package. This looks like a great deal for those who missed the first 4 seminars. Click here to check it out for yourself.
2. Stomping the Search Engines 2
I am actually getting a preview copy of this in the mail, and I hope to get a chance to look at it before they launch. You can learn all the details by clicking here.
3. Rich Schefren's announcement
For those who haven't seen this yet, Rich Schefren is coming out with another report. I can hardly wait to read it. Check out the video announcement he made for it by clicking here.
Have a great weekend!
PS. There is a lot coming after my break… (summer Olympics blogging update, the final two posts of getting started series and some other cool things.)
I just finished watching the third and final Traffic Secrets 2.0 video and it was VERY interesting. Not only does John give some great advice at the beginning of the video, but at the end of this new video John Reese reveals some great news about the price of his Traffic Secrets 2.0 course.
He also reveals (for the first time) details about why this 'course' isn't simply a course like most have seen before.
You'll have to watch the video to see how John is 'raising the bar' when it comes to Internet Marketing educational products. I was very happy to see what he is NOT doing with this release.
Click here to check out the new Traffic Secrets 2.0 video.
Do you ever wonder why it is that you have 500 or 1000, or even 5000 subscribers to your RSS feed and thousands of visitors per month… yet you barely make any money from your blog, if any at all?
The reason is simple…

You have the wrong kind of traffic coming to your blog (or website)!
Most make money online bloggers write post after post aimed at other bloggers and internet marketers, and they try to get as many readers as possible through social websites and other things like that. However, this is not a very good strategy if you really want to make money from your blog.
The people you are targeting with your blog posts are the exact same people who are doing the same things you are trying to make money online and they are definitely not the ones who are going to click on your ads or buy your recommended products. They know what Adsense ads are and they are probably promoting the same products you are on their blogs. So why would they take any action that will make you money? They won't!
If you really want to make money online then most of your traffic needs to come from search engines because the average person doing a search won't have a clue what Adsense is so they will gladly click on your ads. They also don't know what an affiliate link is so they will buy products through your affiliate link if it's going to help them make money online.
So what do you need to do?
Stop wasting all your time getting traffic through social sites and writing your posts aimed at other bloggers in the same niche as you!
You need to start getting keyword rich inbound links with the sole intent of ranking highly on the search engines (specifically Google) so you can start getting traffic from searches. Let's say, for instance that you want to rank highly for "how to make money online" then you need to start acquiring backlinks with that as the link text and variations of it.
Want to know what kinds of inbound links you should be getting to maximize your search engine rankings? Read my recent post on finding the perfect backlink. And read Ryan's recent post on the subject: What Links Can You Point at Your Web Site?
You should also do some keyword research on all the various searches related to your niche and start writing some posts about the different topics that are being searched so you can get rankings for lots of long-tail keywords. The traffic you get from those posts will start adding up and can turn into a lot of visitors and a lot of money!
Getting traffic that actually makes you money isn't rocket science, it's really quite easy. All it takes is the discipline on your part to build backlinks and write specific keyword rich posts.
One of my favorite Internet Marketing gurus, John Reese, has just released two free traffic secrets videos. I already use most of the techniques that John reveals in the videos, so I know they work.
Even if you aren't interested in learning ways to increase your website traffic I still recommend that you check out the videos, because they raise the bar on what can be done with video.
Click here to see for yourself.
I mentioned this before, but I'll remind you of it again. I don't link trade to get backlinks. Yes, every so often, someone asks to link trade with me, and I put them in my blogroll. But as a matter of course, I don't actively pursue it. It's too much work for a type of link search engines don't respect all that much anymore.
However, I still have to have a linking theory, and it's not magic or wishful thinking. It's just that I trade something besides a reciprocal link to get a link pointed at my site. This sort of arrangement holds the potential of giving me more high-quality or targeted backlinks with less work.
So then, what links can you point at your web site that doesn't require a link trade to get? Here's a list of the common, and not quite so obvious, things you could do.
Articles: Put a resource box at the bottom of a good article, then let anyone use it. This is a long-standing 'trade content for backlinks' tactic.


Viral Reports: I've written, and put up for distribution, three viral reports as of this posting with links pointing at all sorts of things that are useful to me. Others can take those reports, rebrand them with their affiliate links, then use them as bonuses for their own purposes. In the process, they use their distribution power to put my links in front of people I might not otherwise reach. This is the larger-scale version of the article marketing theory, and another thing that's been in use for some time.



Videos: Ever heard of YouTube? Know what happens if you produce a video and it goes viral? Any link you happen to display in that video could be seen by millions. Video marketing is becoming a trend in Internet marketing lately, and if you know how to make videos, it's time to looked into making one that can work for you.



WordPress Templates: Ever programmed one of these from scratch? You could make one for anyone's use, and include your link in the footer.



Put them in your products: If you sell something to someone, why stop there? If that product is related to some other site you have, why not mention it? Information products are especially useful in this regard, and can include links pointed at affiliate programs or your other sites.



Offline methods: Put your site names on business cards, letterhead, and other offline products if you have offline businesses. If you're printing them anyway, put that expense to more use by promoting your sites too.



Do you have your own favorite backlinking method? Feel free to comment.
I wanted to let you know about this FANTASTIC deal I recently learned about.
WordTracker is now offering a free 7 day trial. That is really cool!
I occasionally use WordTracker for keyword research, because it can give you a lot of excellent information quickly. I will definitely take advantage of the free trial to find some good keywords to target on my next site.
If you have ever considered using WordTracker, then I recommend that you click here to try it out for free.
PS. Mom and baby are doing well and I expect to get back to a regular blogging schedule in July.