We have heard the saying "Money is in the list" many times before, but for some reason a lot of affiliates and marketers still don't realize how important building a list actually is.
I am not sure why affiliate marketers forget this crucial business building step, but list building should be your highest priority if you sell anything online. I don't care if you are promoting a "how to build an igloo" ebook. Build that list of subscribers, or your business will not last very long.
For example, Google banned thousands of affiliates a while back from their Adwords program and those who weren't capturing names and email addresses got left out in the cold. Their income dropped almost instantly and there was nothing they could do about it.
The fact is that it should be your highest priority to build a list of raving fans that read your emails. Sure you can make money online by simply driving traffic straight to an offer, but as soon as your traffic source stops producing clicks or your ads get disapproved, you are finished.
Let me give you some of the biggest key benefits of owning a highly responsive list of subscribers.
1. Traffic on Tap – Anytime you want to test out an offer or make some quick cash, you can simply load up your auto-responder with a promo email and click "send". When that email hits people's inboxes they click on your link and go to the offer. If you did a great job at preselling, they are going to buy whatever it is you recommended. What's really important is that you no longer depend on other traffic sources for income. You basically own a traffic source that you can always count on without paying a dime for clicks it generates.
2. Joint Ventures – This is a huge benefit that most affiliate marketers forget about. If you have a highly responsive list, you can leverage it to sell your own products and services. When you promote someone else's product and do a decent volume of sales for them, 98% of the time they will offer a reciprocal mailing for you. There is a reason why marketers with big lists make most of the money in the internet marketing niche.
3. Knowing What Your Market Wants – Use your list to find out what they want and sell it to them. You can use a service like SurveyMonkey.com and create a simple survey to send out to your subscribers. Ask them what they want or what they need help with. Then create a product or service based on the data you collected. Why guess what they want, when you can simply ask them and remove the risk of poor conversions completely from the picture?
4. Leverage – Don't ever underestimate people on your list. Some of them might have successful businesses and could become your super affiliates. Imagine announcing your affiliate program to thousands of people with a single click of a button. You could literally overnight get your site flooded with traffic by leveraging your subscribers' efforts. 1000 affiliates driving 100 clicks per day is better than one joint venture partner, who can send a limited number of clicks.
5. Be Viewed As An Expert – When you have a big audience, your opinion and message, which you send out matters. You could have a big impact on your niche market if you have the power to reach thousands of people with a click of a button. A lot of marketers do not know how to position themselves as experts. Build a list and eventually you won't have to worry about that because of the instant social proof you can generate.
I think the above 5 key benefits make things very clear and why it's absolutely crucial to put 100% of your effort into growing your subscriber base. I hope you now realize how powerful this actually is, and how it can take your business to a new level very quickly.
Your ultimate goal is to capture the attention of your market and have it at your disposal any time you want them to take your desired action.
This is a guest post written by Pawel Reszka, the founder of Affhelper.com, a blog dedicated to making money online and internet marketing. Check out his blog is for some cool super affiliate tips.
There are two really interesting launches happening right now that I wanted to talk about.
First, Kajabi just launched and you can check it out here:
http://get.kajabi.com/sales_pages/138?kjba=4c1bcbea (my affiliate link)
It should be interesting to you if you want to launch a membership site. It might be overkill for you, especially if you aren't into video marketing (which you should be).
Next, the "Death of email marketing" is a really interesting read. I am going to be signing up for the program because it fits in well with my current business plans. Click here to download the book. (my affiliate link) It's written by Scott Boulch who wrote the original "Death of" ebook "The Death Of Adsense".
So if you are interested in launching a membership site using primarily video marketing, then check out Kajabi. If you are interested in finding out what technology may be replacing email marketing in the not so distant future then check out the Death of email marketing.
Here's the most basic fact about making money online.
If you want to get buyers, the first thing you have to do it get a potential customer's attention. And as I've done this for a couple of years now, I've seen a whole lot of ways not to do it by email lists I was unfortunate enough to join.
For those of you that are just beginning your journey into making money online, here are some methods that you should avoid when trying to attract customers.

Hype doesn't really work. Seriously. You'll blend in with the trillions of other exaggerated emails or pitches online. Take it from the greatest blog post ever written my mortal man, hype will repel every population on every world in the whole universe in no time flat. It will get old faster than anything has ever gotten old, ever.

ALL CAPS ARE GREAT FOR GRABBING EYES

, AND

THEN REPELLING THOSE EYES JUST AS QUICKLY

.

WHEN WAS THE LAST TIME YOU EVEN WANTED TO KEEP READING A SENTENCE WRITTEN IN ALL CAPS

?

IT REALLY LOOKS SPAMMY

.
Don't even get me started on exclamation points. Yes, one or two properly placed exclamation points are good for conversions, but I've seen them overused. It's like someone drank an entire six-pack of Red Bull before writing their copy!!
In many instances, standing out is a matter of being different or clever, and not loud. Furthermore, brevity is the source of wit, so not only should you be good at making your point, but you should do so quickly. Subject lines in emails are a great example of when this works well. Just don't hype your email

IN ALL CAPS

!!


You can see examples of things that just don't work in ads you might come across online, because they don't work on you. And fortunately, you can put that annoying stream of emails you get to use by swiping the headlines that actually got you to open one or two of them. Just avoid the spammy stuff, and for goodness sake, don't use the caps lock.
After significantly increasing my newsletter subscription rate by adding a pop-over opt-in box on this blog, I was curious what you thought of it. So, I have created a new poll to find out what you would do if your favorite blog added a pop-over opt-in box to their site. Take the poll below and let me know what you think of pop-over opt-in boxes.

PS. My friend Daniel at Daily Blog Tips, created a similar poll with a different question. Go check out his poll by clicking here. I am interested in the results of both of our polls.
I have known for quite some time that using a pop-over opt-in box will increase your newsletter subscription rate over the standard opt-in form placement in the navigation bar on your site. I have never implemented pop-overs, because I was concerned that it would tick off visitors to my site. After reading about Darrin Rowse and Michel Fortin's results with using a pop-over opt-in I decided to go ahead and try it out myself. So here's what happened…
The Results of my pop-over opt-in test…
The first day I added a pop-over opt-in box on this blog, my newsletter subscriptions per day doubled. The second day my newsletter signup numbers tripled. And on the third day I had six times as many new subscribers as usual. This increase in number of subscribers per day has continued with anywhere from 2-10x the number of subscriptions every day. Needless to say I am very happy with the results and will continue using the pop-over!
I use AWeber to manage my email subscriptions, so it made sense to use AWeber's lightbox hover option to create the pop-over opt-in box. The lightbox hover pop-over opt-in greys out the background of my blog and puts the opt-in box on top of my blog's content. It looks something like this: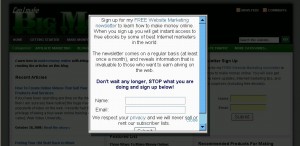 One quick note about the pop-over box. I set it so that it is only displayed the first time you visit my blog. On subsequent visits it won't show up. I thought that setting it to only show up once per visitor would keep it from being to intrusive.
If you don't use AWeber, there are other ways to do this. One other way to do this is by using the wordpress plug-in that Michel Fortin mentioned in his post, called "Action Pop-up". It has a few more options than AWeber's built-in lightbox hover option and it can be used with other newsletter programs.
The bottom line is that if you want to increase your email subscriptions you should immediately start using a pop-over opt-in on your site or blog. It will help you make big money online.
I am going to start of by answering the question "What is spam?" and then I am going to talk to you about a disturbing a trend on the web related to the definition of spam.
Here is the ORIGINAL definition of spam:
"Unsolicited email"
Simply stated spam is email you receive from someone that you have never agreed to receive from them.
How is the definition of spam changing?
In the first chapter of Sylvie Fortin's ebook, "Internet Marketing Sins", Sylvie discussed a recent report by Marketing trends about spam. Apparently the definition of spam is changing…
According to the report:
Most consumers don't accurately comprehend the term "spam":

Over half of survey participants – 56% – consider marketing messages from known senders to be spam if the message is "just not interesting to me."


50% of respondents consider "too frequent emails from companies I know" to be spam.


31% cite "emails that were once useful but aren't relevant anymore."



Regarding the use of the "report spam" button – the primary tool that internet service providers (ISPs) provide consumers to counter spam – nearly half of respondents (48%) provided a reason other than "did not sign up for email" for reporting an email as spam.

Respondents cited various non-permission-based reasons for hitting the spam button:

"The email was not of interest to me" (41%).


"I receive too much email from the sender" (25%).


"I receive too much email from all senders" (20%).
When I first read the above survey, I was TOTALLY shocked!
Apparently, people are EXTREMELY misinformed on the meaning spam. I occasionally have people unsubscribe from my newsletter who cite the reason for leaving as "spam". I am always dumbfounded by that response. I mean seriously…
If you sign up for a newsletter and you get the newsletter the only way you can legitimately call it spam is if you don't know the definition of spam.

Long story short, the Internet is becoming more and more challenging for marketers. If double opt-in newsletters are being called spam, what's next? Will blogging of any sort be called spam? Will all advertising messages be called spam? It wouldn't surprise me at all… would it surprise you?
Occasionally, you may have come across things like "Automated Sales Machine" and "Sell While You Sleep" in someone's sales letter copy, and it sounds too good to be true. But, is it just sales hype? Yes and no. Yes, you can set up an automated sales machine that works while you sleep, and without your input. It's called an autoresponder.
Your email marketing service can help you collect names and email addresses, but it can also store and then automatically send pre-written messages as an autoresponder. Autoresponders automatically send emails out to those who sign up for your list once you define the intervals and the email bodies you wish to send. Those emails can contain information, affiliate links to other products you're promoting, or other things you might want to send to your list.
They can also be used to defeat customer resistance in advance of pitching a more expensive product. You may even have seen sites which say "Sign up for my free report series" or "Sign up for a free chapter". This is an attempt by the merchant to use an autoresponder to sell his product, and put you on his list in the meantime. Most people have to see an ad seven times or so before they respond to it, and you can help overcome that obstacle with just this technique.
Now for the "no" part. No, you're not going to manage this instantly. Autoresponders messages, just like sales letters, have to be optimized, tracked, and tested. Once you've done this, then yes, you have an "Automated Sales Machine". Until then, you have to determine:
If anyone is joining your list in the first place, and if not, how to change that.


If the messages are being received, and if not, how to make the spam filters happy.


If the messages are being opened, and if not, how to fix the subject line.


If the messages are opened, is anyone buying through them? If not, you may need to add a few more educational autoresponder messages or work your pitch.


So again, yes and no. Yes, you can have an automated sales machine with an autoresponder that will work without your input even while you sleep. No, you're not going to have it instantly.
I'm going to throw this out to the peanut gallery, and in all fairness, I didn't think of it. I remember reading it somewhere, and I regret I don't remember who said this, but to paraphrase: "The only people on my list are the ones who've paid to be there". It's the strategy I'm going to use with my soon-to-be-live latest e-report launch, and here's the reasoning behind it.
The desirable quantity in a list is its responsiveness. Therefore, the only time you should put someone on a list is when that someone has already bought something from you, (i.e. has demonstrated the capacity to be responsive to your sales pitches). This insures a higher chance they'll buy something else from you later, because they've already paid money to be there now. A lower volume of names, to be sure, but more responsiveness.
I know the $7 report theory puts this to some use. You buy the report before you're asked to for your name and email, which means the person selling it already knows the latest addition to their list will buy from them. Granted, they're probably not going to buy a product in $97 dollar range if this happens, but other $7 products and their 100% commissions? An entire web site full of them called 7dollaroffers.com exists as nothing more than a clearinghouse for those sorts of offerings in multiple niches, giving you plenty to promote.
So, what do you think, and what are your circumstances?

Can you get responsiveness out of your free ezine list? If so, what are you doing?


Do you already do it this way? How's it working out for you?


Have another strategy you'd like to share?


Leave a comment and give me your opinion.
Here's a poll for those of you that publish your own ezines, like me. What's your favorite format?
There's more than one way to publish an ezine, and I've seen several of them before. Here are some of the common ones, and I'd like to hear from you.

Text-only: This is the one I use for my blog summary newsletter. They're easy to make and don't cause any real trouble with spam filters unless you're using words like 'Viagra'. The down side is that they're not terribly fancy. By the way, if you do publish a scam online pharmacy newsletter, please leave the

URL

so I can avoid it.



HTML

: This is the type sent by the big companies. Pretty pictures and formatting, but can cause trouble with spam filters and image blocking. You can really go to town with one of these, and would be worth it if you could get it through.


Summaries with link lists: I've seen a lot of this format lately, and used it when I've had articles too big or picture-loaded to send in straight text. The ezines are on a web page, and the emailings are a list of hyperlinks going to the pages there. They may include some opening text and I've even seen some come with tables of contents and pictures.


Summaries with a link: Similar to the one above, but the newsletter is all at the same link. So only one is included with the emailing.


List-only: You don't publish an ezine. You just collected a list from a product you've sold, and periodically send out solo ads to it.


Something else: You don't care about the conventions and do something completely different. If this is you, I encourage you to comment and tell me what it is because I like originality.


Don't be shy. Tell me what your favorite ezine format is and why.
One of the most important things (if not THE most important thing) you should do to have a successful online business is to start an email list. Why do you need an email list?
It Has a Proven Track Record
Just about every Internet Marketer I have ever heard speak (and that's a lot of them) has said that the single most important thing that contributed to their success is their mailing lists.
To Capture Your Target Market
Your newsletter subscribers are (or should be) your target audience. When subscribers sign up on YOUR website, it shows that they are intersted in what YOU have to say. Having a built in list of people who are interested in your perspective is a great opportunity to introduce them to products that will help them achieve their goals (and put money in your bank account). It's a win/win situation for you and your subscribers.
E-Mail Lists Build Trust
Additionally, your newsletter subscribers are likely to trust you more than the average stale website because you have been writing to them for a while and building a relationship with them. You want to give your newsletter subscribers more than they expect. In fact, you always want to give people more than they expect—it's the best way to build a relationship with your readers. And people are more likely to trust someone who takes the time to build a relationship.
It's the Best Way to Keep Your Traffic
Let's say that you get a constant stream of traffic to your website from the Search Engines. One day the Search Engines decide to stop giving your site traffic.
Will this ruin your business?
It might if you don't have a newsletter. However, if your visitors have been giving you their email addresses via a newsletter, then all is not lost. You can still get in touch with the people on your list to let them know about changes to your site, new products, etc. You will continue to have an audience for your online business without having to pay/beg/cheat to get your traffic back.
Final Thoughts
One of the biggest mistakes I made when I started my online business is not having a newsletter for every one of my web sites.
A few months ago I signed up with AWeber because, quite frankly, it has a lot more power than using a free service like Yahoo Groups. Also, some people mistrust the reliability and confidentiality of Yahoo Groups. Additionally, using a service like AWeber makes your business look more professional. It currently costs 19.95/month, and you can have an unlimited amount of lists at this price. The price does go up if you have over 10,000 subscribers. If you have over 10,000 subscribers you should be able to afford the extra cost, because you should be making some pretty good money from your list.
You can go check out AWeber by clicking here.
I researched other services and decided AWeber was the best one for my new business project. If you don't plan on having a lot of subscribers and you don't plan on having multiple lists there are other services that might work better for you. Two of the most popular alternatives are Constant Contact and GetResponse. We have friends who own a local organic farm who use Constant Contact, and they seem to like the way it works. It didn't really suit my needs, but it might suit yours. So far I really like AWeber and I don't see myself changing services any time soon.
I mentioned earlier that I read a lot of good articles this week. Well, I read so many good articles this week, that I decided to post a second group of articles for your reading enjoyment…
How to Make Money with a Video Blog: An Introduction and Guide
I haven't read the guide that Maki talks about yet, but I can tell you from experience that this is an excellent way to make money with blogs. Like I said in the comments, "...I have been considering turning some of the blogs that I don't have time for, into mostly video posts. I also tend to get more links to the posts with videos. I highly recommend testing this out. I think you will be pleasantly surprised with the results."
Copy Is Not About Selling, It's About Serving
Excellent post by Michel Fortin on the future of copywriting.
Should You Build a Blog or an EMail Newsletter List?
I totally agree with Chris' conclusion in this post.

Interview with Search Engine Guide's Jennifer Laycock
Excellent interview with some solid SEO advice.
Stay Away from In-Text Advertising
I removed Kontera ads from this blog, but I am continuing them on my other blogs for now. I might discuss this more later. Come join in on the argument (errr… discussion).
Clicking Adsense Ads
Interesting discussion on clicking Adsense ads. Do you click on them or ignore them?
Unique Content – Where to Find Topics and Ideas
Good post by Gayla on places to find topics to write about. I currently use all of them.
There were other good articles that I read this week, but between part 1 and 2 you should have plenty to read…
I am just starting to catch up on my email and I noticed someone selling a viral tell-a-friend script and someone else giving the same functionality away for free. So I thought I would let you know about the free viral tell-a-friend script. It is by Scott Boulch (Death of Adsense author). You can click here to get Scott's free viral tell-a-friend script.
I haven't tried it, but it looks interesting. I may use it to help build my next email list.
Warning: Scott uses some colorful language when describing his tell-a-friend script.