Choosing Keywords for Link Building – Wise Way to Do That
Written by Nick Bokhonok · March 17, 2009

Without the proper choice of keyword(s) for your link building it is almost impossible to see Google page 1. No matter how hard you try to do that.
I have enough experience to say it, because I pushed lots of personal sites to Google page 1. And I am also the owner of the community where thousands of people are building backlinks every day – and this gives me huge data that helps to see who gets page 1 and who fails.
That is why, let's start with a statement…

Wrong Keyword Choice – No Google Page 1!
The right keyword for the link building is a keyword with:
(a) stable search demand
(b) low link building competition
And around 70% fail to choose keywords for their link building correctly
. They simply rush to build as much as possible, choosing very competitive keywords like "make money" or "loans" or "weight loss" WITHOUT understanding that sites on Google page 1 for these keywords have dozens and hundreds of thousands of backlinks.
So, in this publication I am going to give a free guide – how to find reasonable keywords for link building. The keywords for which you can get page 1 realistically and within quite a short period of time.
Question 1 – What Keyword Research Tool to Choose?
There are lots of keyword research tools on the market, but you do not need 99.9% of them.
Start from a simple question. Who can be the best provider of the search demand information? Search engines!
Unfortunately Yahoo stopped giving away its search info to open public. Who is left? Google!
I do not want to say anything bad about other tools. But you need to understand that: EITHER these tools take their info from Google OR they have a much smaller database of searches (and this is bad).
I will give just one example. There is a very famous keyword research tool WordTracker, very famous. Do you know where they take their search info from? Go to About page of their site where they officially say "All search terms are collected from the major metacrawlers – Dogpile and Metacrawler."
Can Dogpile + Metacrawler compete with Google when it comes down to the search volumes? No. Who has a bigger data of search demand? Google, beyond any doubt. You need to have access to as many keywords as possible to make a proper choice.
That is why – I am personally using free Google keyword research tool that is here https://adwords.google.com/select/KeywordToolExternal
When choosing the keywords with the help of Google keyword tool, make sure to choose "Show Search Volume Trends" in the dropdown menu (shown on the screenshot below), this will show you if the keyword that you are going to choose has stable search demand or not.
As the results from link building are not quick (because SEO is not quick), it is much wiser to focus your link building attention on the keywords that have stable search demand, and "Show Search Volume Trends" will help you to see that.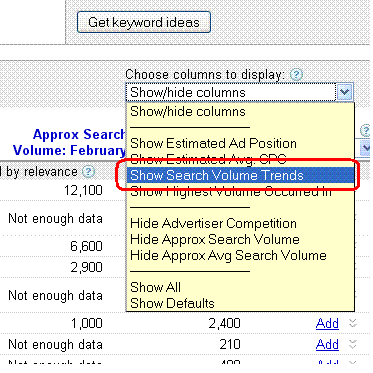 So, when it comes down to the keyword selection your goal is to choose the keywords with highest stable search demand.
BUT…
Each of these keywords is considered to be realistic only when it has moderate link building competition, and this is where we come to another question.
Question 2 – How to Check Link Building Competition?
It is simple, because Google gives us the tool to see how many web pages are building backlinks for the same keyword or keywphrase that you plan to target.
All you need is type into Google the following phrase:
inanchor:"your keyword here"
This is a sample of inanchor check for the phrase "keyword research tool"…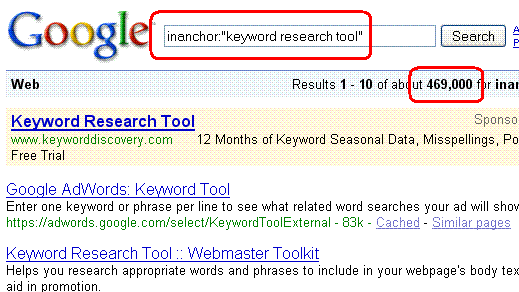 As you can see – 469,000 web pages have backlinks with "keyword research tool" in the anchor text of the backlinks. These are your DIRECT link building competitors for this phrase, and you need to beat all of them – then you will get to the top in Google search results for this phrase.
So, with the help of inanchor you can check the link building competition for any keyword or keywords.
Question 3 – Ok, I Know Search Demand and inanchor – How to Find Reasonable Keywords?
Your ideal keyword for link building is the keyword with ZERO inanchor and maximum search demand .
But zero link building competition is very rare, especially for the keywords with serious traffic.
My personal experience is that any keyword with inanchor less than 1,000 pages is "doable". So, everything that is under inanchor 1,000 and that is ok in terms of the traffic is a reasonable keyword for link building.
That does not mean that keywords with inanchor over 1,000 are a taboo?
No!
I had experiences of getting page 1 for the keywords with inanchor competition over 10,000,000. And not only me, the members of my link building community as well. But to get page 1 for that keywords you need to build a good portion of quality backlinks every day. This becomes part of a daily routine that you are doing to push your business to page 1 for very tough keywords.
Not everyone has enough guts to be building backlinks daily, for 3-4-5 months, and only then see the results of this work. The traffic for that keywords is worth the job, but the job is not easy and don't kid yourself that is can be easy. This is SEO, this is not a lottery.
That is why, reasonable keywords with inanchor less than 1,000 is a perfect fix for the people who hurry up to see their sites on page 1 and start getting targeted traffic.
And if you want the traffic from tough keywords – well, welcome to the club of the link building zealots 🙂

Reasonable Keywords + Smart Link Building = Google Page 1
About author:
Nick Bokhonok – inventor of Internet marketing and

SEO

tools since 2000. His new community www.FreeTrafficSystem.com helps people to build unlimited one way links for free.