My blog has a running gag called Ned the Intern. I've only made my ficticious intern more prominent lately, as I hope to start making viral videos with "him" next year. However, he started as a very real script. It's a controversial bit of work called a news aggregator, and despite its less responsible uses, has helped me speed up the addition of content to my blog in a perfectly legitimate way.
Yes, I know that news aggregators like Ned the Intern are commonly used for copyright violations and autoblogging by lazy or unscrupulous people. But you can use them responsibly if you resist the temptation to join the dark side. Here's how that works.

For certain types of sites, like current events, you can get a rapid selection of stories on which you can comment simply by setting up an aggregator and letting it put what it finds into your drafts folder.
Find a story you like, then

DO NOT

use anything your aggregator gives you but the link. The aggregators can only post what they see, which you'll use as a quick way to review what it finds and nothing more. You are not using your aggregator to steal content, but to rapidly search for comment-worthy stories.
Then, you give your opinion of the story, and retain the link. This way, you've just written about something of interest to you, and are giving a one-way link to the source of the story. They don't have their content stolen, and you get a faster blog post.
Never use this technique to exclusion. Commenting on the latest and greatest story of the day is great supplemental content, but you'll have to write something from scratch sooner or later. Who knows, someone might like your stuff and link to you.


Despite their more sordid uses, news aggregators can be used in ways that don't violate another person's content copyright. Just don't decide that because you can use them that way that you will.
Do you have a great sense of humor? Do you have a quirky sense of humor? Are you just looney and offbeat in a way that's amusing to others? Then you have a niche you can use to make money, and that's the humor niche.
I've seen humor sites of varying quality during my travels across the Net, ranging in quality from hilarious to "I wish I hadn't come here". The ones that do well are those that can appeal to the sense of humor of their target niche, and there are quite a few success stories. The Onion, Failblog, and Cracked.com all come to mind as successful repeat traffic magnets because of their styles of humor. Heck, The Onion even had its own movie.
If you want to start a humor site and make money, here are a few options I've seen before:

A full-blown blog: Technically, this would be the generic content site strategy for humor. However, if you go this route, blogging platforms make content management so much easier than direct alterations to

HTML

code. That's why I recommend a blogging platform for the content approach to humor. Failblog (a video blog) uses this format, and even has its own YouTube channel.


A web comic: I see the occasional web comic on the front page of Digg, so they do generate traffic. Again, they're of varying quality from "Ugh" to "Cool". If you can draw comics, you might want to consider this route.


Jokes in the email: Yes, you can use humor to list build. Granted, the jokes I get from my last sign-up are miserable, but that doesn't mean you won't make someone laugh if you're good at comedy. Building your income stream this way is just like any other type of email marketing.


If you can do it, humor is a great niche. Vulgar humor isn't so great, because its so ubiquitous its really doesn't stand out. However, the ability to humor people to real laughter over and over again is a sure-fire traffic magnet, and something you should consider to leverage a talent for comedy into money making online.

Without the proper choice of keyword(s) for your link building it is almost impossible to see Google page 1. No matter how hard you try to do that.
I have enough experience to say it, because I pushed lots of personal sites to Google page 1. And I am also the owner of the community where thousands of people are building backlinks every day – and this gives me huge data that helps to see who gets page 1 and who fails.
That is why, let's start with a statement…

Wrong Keyword Choice – No Google Page 1!
The right keyword for the link building is a keyword with:
(a) stable search demand
(b) low link building competition
And around 70% fail to choose keywords for their link building correctly
. They simply rush to build as much as possible, choosing very competitive keywords like "make money" or "loans" or "weight loss" WITHOUT understanding that sites on Google page 1 for these keywords have dozens and hundreds of thousands of backlinks.
So, in this publication I am going to give a free guide – how to find reasonable keywords for link building. The keywords for which you can get page 1 realistically and within quite a short period of time.
Question 1 – What Keyword Research Tool to Choose?
There are lots of keyword research tools on the market, but you do not need 99.9% of them.
Start from a simple question. Who can be the best provider of the search demand information? Search engines!
Unfortunately Yahoo stopped giving away its search info to open public. Who is left? Google!
I do not want to say anything bad about other tools. But you need to understand that: EITHER these tools take their info from Google OR they have a much smaller database of searches (and this is bad).
I will give just one example. There is a very famous keyword research tool WordTracker, very famous. Do you know where they take their search info from? Go to About page of their site where they officially say "All search terms are collected from the major metacrawlers – Dogpile and Metacrawler."
Can Dogpile + Metacrawler compete with Google when it comes down to the search volumes? No. Who has a bigger data of search demand? Google, beyond any doubt. You need to have access to as many keywords as possible to make a proper choice.
That is why – I am personally using free Google keyword research tool that is here https://adwords.google.com/select/KeywordToolExternal
When choosing the keywords with the help of Google keyword tool, make sure to choose "Show Search Volume Trends" in the dropdown menu (shown on the screenshot below), this will show you if the keyword that you are going to choose has stable search demand or not.
As the results from link building are not quick (because SEO is not quick), it is much wiser to focus your link building attention on the keywords that have stable search demand, and "Show Search Volume Trends" will help you to see that.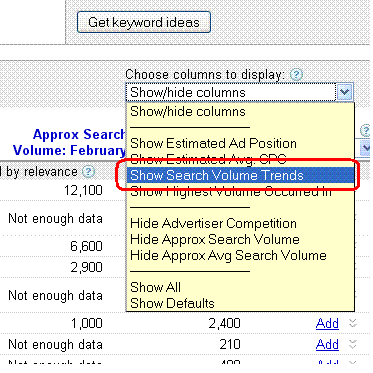 So, when it comes down to the keyword selection your goal is to choose the keywords with highest stable search demand.
BUT…
Each of these keywords is considered to be realistic only when it has moderate link building competition, and this is where we come to another question.
Question 2 – How to Check Link Building Competition?
It is simple, because Google gives us the tool to see how many web pages are building backlinks for the same keyword or keywphrase that you plan to target.
All you need is type into Google the following phrase:
inanchor:"your keyword here"
This is a sample of inanchor check for the phrase "keyword research tool"…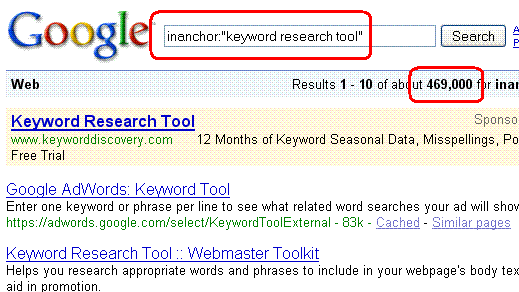 As you can see – 469,000 web pages have backlinks with "keyword research tool" in the anchor text of the backlinks. These are your DIRECT link building competitors for this phrase, and you need to beat all of them – then you will get to the top in Google search results for this phrase.
So, with the help of inanchor you can check the link building competition for any keyword or keywords.
Question 3 – Ok, I Know Search Demand and inanchor – How to Find Reasonable Keywords?
Your ideal keyword for link building is the keyword with ZERO inanchor and maximum search demand .
But zero link building competition is very rare, especially for the keywords with serious traffic.
My personal experience is that any keyword with inanchor less than 1,000 pages is "doable". So, everything that is under inanchor 1,000 and that is ok in terms of the traffic is a reasonable keyword for link building.
That does not mean that keywords with inanchor over 1,000 are a taboo?
No!
I had experiences of getting page 1 for the keywords with inanchor competition over 10,000,000. And not only me, the members of my link building community as well. But to get page 1 for that keywords you need to build a good portion of quality backlinks every day. This becomes part of a daily routine that you are doing to push your business to page 1 for very tough keywords.
Not everyone has enough guts to be building backlinks daily, for 3-4-5 months, and only then see the results of this work. The traffic for that keywords is worth the job, but the job is not easy and don't kid yourself that is can be easy. This is SEO, this is not a lottery.
That is why, reasonable keywords with inanchor less than 1,000 is a perfect fix for the people who hurry up to see their sites on page 1 and start getting targeted traffic.
And if you want the traffic from tough keywords – well, welcome to the club of the link building zealots 🙂

Reasonable Keywords + Smart Link Building = Google Page 1
About author:
Nick Bokhonok – inventor of Internet marketing and

SEO

tools since 2000. His new community www.FreeTrafficSystem.com helps people to build unlimited one way links for free.

For those of you who don't know who Jay Abraham is…
Jay has spent the last 25 years helping businesses make TONS of money. When I first started learning about marketing Jay's name came up everywhere I turned because he is so well respected in the industry. In fact, he was named one of the top 5 executive coaches in the country in the March 6, 2000 issue of Forbes Magazine. I could write a full article on his credentials alone, but suffice it to say that Jay Abraham is considered to be one of the top business experts in the country.
Jay recently come up with a list of 42 different ways you can rapidly profit (and prosper) during this economic recession and he is going to share them with you for free!
It doesn't matter whether you own a business, work for someone else, or want to find an income source that can rapidly pay all your bills.
If you want to secure your financial future, find a fresh recession income source, or help your employer earn more profits…these recession-based income strategies can provide the financial security blanket that you need to handle all the problems this bad economy is causing you.
Please don't let fear stop you from prospering in these uncertain times.
Go sign up now for Jay's FREE teleconference to find out 42 ways to prosper in this recession by clicking here!
You're about to experience first-hand (for absolutely nothing) the same information a group of beleaguered real estate investors just paid Jay Abraham nearly $200,000 to hear about.
In all of two quick hours, via a convenient teleconference re-broadcast, Jay Abraham, himself, will show you 42 different ways you really CAN prosper from this recession, Right now—- not someday in the future.
None of these strategies will require one dime of capital invested on your part. None bear any downside financial risk, either and none are focused on real estate.
I just reserved my spot because I want to know how to increase my profits during these uncertain times.
Don't wait! Click here right now, to reserve your spot on the FREE teleconference and learn how you can prosper in these difficult economic times.
I don't know why so many internet marketers think that there's some kind of hidden secret to being successful at making money online. If you didn't know better you would think there was a secret money making manifesto buried under John Reese's house or something like that. Well, I've got news for you; there is no secret to making money online!
The same is true for finding a profitable niche market; there is no hidden secret to that either. The process is actually quite simple and in this post, I'm going to give you the basics of niche research. Follow this simple niche finding guide and you shouldn't have any trouble finding a profitable niche for you to focus your internet marketing efforts on.
The first step in the process of picking a money making niche is to just find something. It can be anything, it really doesn't matter what it is as long as you find a starting point. Think of things that you or your friends are interested in, or stuff that you often see being sold online. If you can't think of anything just go to eBay and check out what the hot selling items are there.
After you find a possible niche go to the Google Keyword Tool and check the niche to see how many searches there are for the main keyword phrase related to it. Chances are you'll get a large list of related keywords from the search. It will show you how often each one is searched for every month on average.
After you have the keyword list, go through each of them one by one and plug them into the actual Google search engine to see how many competing sites there are. Use quotes around the keyword phrase so you only get sites with exact matches. Since there will probably be a lot of keywords you don't have to check them all, just several of the main ones.
Now, let's say a keyword phrase gets an average of 1000 monthly searches and you found there are 10,000 competing sites. There's a simple formula you can plug these figures into and get the Keyword Efficiency Index (KEI). The formula is (monthly searches / competing sites) X monthly searches. If the KEI is 100 or greater the niche is typically considered to have profit potential. In our example it would be (1000/10,000)X1000 = 100, so it that niche is a potential money maker.
Finally, you need to find out if there are any products being sold in that niche and any Adwords campaigns being shown for the keywords. If there are, this is more evidence that the niche could be profitable because most people won't take the time to create a product or pay for ads if there's no money in the niche. But even if there aren't any products or ads it could just mean that you found a completely untapped niche. The potential still exists that it's a money making niche, however it's not likely that you are the first to find it, so you might need to do more research if that ends up happening.
As you can now see, niche research is not very complicated and there aren't any hidden secrets to it. Anyone with basic computer skills can find a profitable niche if they really want to. It basically boils down to finding out what people are searching for, seeing how much competition there is, and figuring out if products exist within the niche. If everything looks good, the money making potential is probably there.
No, I'm not kidding, it really is that simple!
Dedicated to your success,
Trent Brownrigg
Helping aspiring entrepreneurs find home business ideas since 2003.
A few weeks ago in my free website marketing newsletter I revealed how to find successful online businesses to emulate. In this post we are going to discuss how to duplicate their success.
The first step is to find out what keywords they are using to advertise their products and services. You already know some of them because of the previous exercise. There are tools that will tell you all the keywords they are using to advertise with. One example of this is KeyCompete.com


Next, you need to figure out what they are doing to sell their products.
Do they have a newsletter?
If yes, how do they entice you to sign up for it?
Sign up for their list and make note of often they email you, what they email, what products and services they promote.
What kind of copy do they use?
Does their website look professional or homey?
What colors do they use on their website?
How is the website layed out?
How many pages do they have?
Do they use pictures? How?
Do they use video? How?
Determine everything they are doing and compare this with all the other sites on your list. Once you are done you will find some common themes. The things each of the sites have in common are things that you should absolutely be doing!
Several years ago I compared the top ten Technorati blogs in a similar fashion. Some of the things I found were:
1. They all made use of images in their posts.
2. A majority of them had their navigation on the right side.
3. A majority of them used either the color green or blue as their main color.
etc.
I didn't do an in depth study, but if you wanted to emulate the top 10 blogs you could do an in depth of study of them and duplicate what they are doing. You could find out how many posts per day they write, what they write about, how they market their blogs, etc. Then you would know how to duplicate their success.
Emulating the best businesses in your niche will shortcut your path to success.

Note: If you want to read my previous newsletters on this topic just sign up for my newsletter by clicking here. Then enter your name and email and you will get the entire series in order over the course of a few weeks. Plus you will get other free advice that I don't provide on this blog.