How To Build An Email List Fast
Written by George Manty · November 5, 2008
I have known for quite some time that using a pop-over opt-in box will increase your newsletter subscription rate over the standard opt-in form placement in the navigation bar on your site. I have never implemented pop-overs, because I was concerned that it would tick off visitors to my site. After reading about Darrin Rowse and Michel Fortin's results with using a pop-over opt-in I decided to go ahead and try it out myself. So here's what happened…
The Results of my pop-over opt-in test…
The first day I added a pop-over opt-in box on this blog, my newsletter subscriptions per day doubled. The second day my newsletter signup numbers tripled. And on the third day I had six times as many new subscribers as usual. This increase in number of subscribers per day has continued with anywhere from 2-10x the number of subscriptions every day. Needless to say I am very happy with the results and will continue using the pop-over!
I use AWeber to manage my email subscriptions, so it made sense to use AWeber's lightbox hover option to create the pop-over opt-in box. The lightbox hover pop-over opt-in greys out the background of my blog and puts the opt-in box on top of my blog's content. It looks something like this: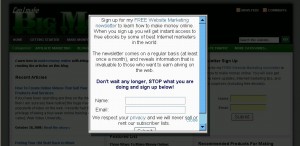 One quick note about the pop-over box. I set it so that it is only displayed the first time you visit my blog. On subsequent visits it won't show up. I thought that setting it to only show up once per visitor would keep it from being to intrusive.
If you don't use AWeber, there are other ways to do this. One other way to do this is by using the wordpress plug-in that Michel Fortin mentioned in his post, called "Action Pop-up". It has a few more options than AWeber's built-in lightbox hover option and it can be used with other newsletter programs.
The bottom line is that if you want to increase your email subscriptions you should immediately start using a pop-over opt-in on your site or blog. It will help you make big money online.