The Grass Isn't Always Greener On The Other Side
Written by Monika Mundell · June 10, 2008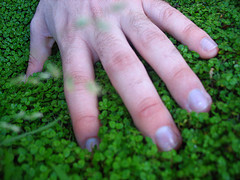 A common attribute many people share is the belief that the other side is more fun, hence the saying "the grass is always greener on the other side." While this might be true for certain aspects of life, it doesn't always ring true for business.
In fact, I beg to differ and throw a total different viewpoint out here. I believe that the reason most people never succeed online is because of their beliefs. See, most budding entrepreneurs start out by following a dream. Often that dream isn't strong enough and as a result they fail.
This is nothing out of the ordinary and should always be expected. Not all of us are made from the same resilience and depending whether we can sustain ourselves through our beliefs, our abilities and our actionable activities is down to the individual.
But the majority of online business seekers are those who start off by following a certain principle. That might be a book they read, a person who teaches them a certain way, or an idea they find really cool and suitable for themselves.
In the beginning stages of all businesses we have the building blocks. Once we get over that initial hurdle and really start going we experience major setbacks and smaller hurdles that need to be stepped over in order to get ahead.
And here is where the problems begin for most.
While some few with a mighty vision and plenty of passion keep powering on, the rest will start looking over the neighbors fence when things start to toughen up. We start to admire the color of his grass and wonder how in the world we can't get our grass to be as green and healthy, all the while forgetting the fact that our neighbor has been tending to his grass for a good while longer than us.
This will quickly lead to frustration and self doubt. We start to question our abilities, our motivation and the why? I can tell you right now, unless your why is big enough, this will be a tough nut to crack.
Looking over the fence to compare ourselves with others is a very bad idea. Comparison can never be fair as the other person will always have a different mind set, ability and will power than us. No two humans are exactly the same and we also don't come from the same background.
So how in the world can you expect to be as good as the new kid on the block who grew up with entrepreneurial parents, powering on past you to success, while you stem from a middle class home and never knew what personal development was before you read an online article.
Comparing ourselves in such ways is a sure fire way to failure and throwing the towel. Don't do it. You are destined for greatness if you only believe so. We all are.
Another problem is the start – stop mechanism in which many "would be" business owners run their business. They start – look over the fence to find a quicker way to become successful – and stop. Then they start with the quicker way to become successful and find that it isn't so easy after all and guess what – they stop. This destructive cycle will continue to spin until you learn to focus your energies and your vision.
Once you clarify your vision and keep your focus, your business will improve – guaranteed. I think that is proof enough that the grass is certainly not greener on the other side, even if we tend to believe so.