What You Can Learn From Your Competition
Written by Monika Mundell · May 20, 2008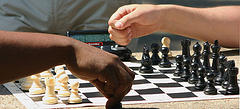 We all have competition, regardless what we do in life. Whether we are working for a boss, pushing a baby stroller through town (that will be you George) 🙂 or compete in the next local triathlon, competition is what makes us strive further, higher, faster and better.
Competition is healthy, in a measure portion. It does however become unhealthy when we take it too serious as this can lead us to being obsessed. In business competition is what strives us to do even better than the guy next door. Because business is often cut throat, we need to stay on top of the game, whatever game we play, to stay competitive in our industry.
We can learn a tremendous amount about ourselves by studying our competition. These studies can help us to become better at what we do.
Look at their trend: Can you identify a pattern in your competitor? Is there something they do consistently, or do they chop and change their tactics all the time? Are they busy with what they do? Is it working? By seeing a pattern emerge we might find some great insights into what we can do better to keep on par or even provide a much better service than they do.
Study their angle: Are they marketing aggressively or do they use soft tactics instead. How do they present themselves on their marketing materials such as brochures, websites, blogs? Often when we enter a new business or industry these kind of observations can give us tremendous amounts of information on how we should proceed.
Of course it isn't advisable to follow a business that isn't doing so well. You want to study somebody who is ahead of you in the game in order to grow and move ahead.
Study their advertising to pick up on their target market: How do they advertise, if at all? Are they targeting young professionals, mothers or generation X. What language do they use? Are they using a lot of bait, or is their marketing based on telling stories.
Find out where they advertise to attract clients: In today's marketplace there are virtually thousands (if not more) ways to advertise. Let's look at the most common (please drop me a comment if I forgot something important).
Offline:
Newspapers
Magazines
Flyers/pamphlets
Direct Mail
Yellow Pages
Phone book
Trade Journals
Online:
Websites
Blogs
Niche Sites
Ezines
Article Directories
Online Job Boards
Online Job Search Places
Online Newspapers
Forums
Advertising doesn't always mean that a business pays to be seen. For example in forums you participate to establish a presence as a industry specialist. On article sites you do the same. The purpose of niches sites is to serve the needs of a specific market and so on.
Pulling all the data together: While assembling all that data only to forget about it again isn't very helpful to any business, you should make use of it here and now. If you realize that your competitor is onto something really good, then follow suit, but be better. Offer more.
Doing it in style: We don't have to be overly aggressive in competing. Often the quiet competitor achieves way more than the guy who shouts murder from the rooftop. If you are smart, then you know where your competition stands at any one time. It allows you to keep stock of your own advancement and gives you great motivation to push your limits higher.
An important end note: While competing is fun, exciting and sometimes also exhausting, it should never become frustrating.
The moment it does, it means that you are measuring yourself against your competitor and that is very unhealthy indeed. You shouldn't compare yourself to anybody else but you. You don't know the other person's history, their abilities, their background. Therefore we can never be on the same par with others in our industry, we can only offer better service.
What do you think?
About The Author
My name is Monika Mundell, and I'm the author of Freelance Writing. Learn more from me there.