Setting Milestones For Business
Written by Monika Mundell · April 28, 2008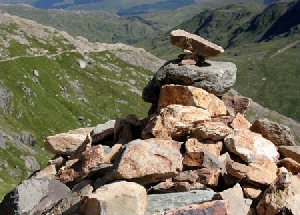 Online entrepreneurs have something in common. Our desire to succeed has made us take our financial destiny into our own hands with the idea of becoming financially successful one day.
While success can mean many things for each of us, a common measure of success is managing to become financially independent of an offline job and have the freedom of working from home. While working from home is generally associated with the American dream, many entrepreneurs fail to set proper milestones in their business to get ahead.
It is too easy to become complacent while things are going well, but not setting targets that help us to grow would be like committing business suicide.
The first step is always the hardest since it often involves a tremendous amount of courage, trust in our abilities and mojo to get even started.
Fear of failure holds back many would be entrepreneurs and unfortunately this common human trait will hold these folk back from ever experiencing the power of failure. Yes, that wasn't a misprint since failure is ultimately responsible for our successes. Without failure we very rarely grow and without growth, there won't be any success.
Depending on what business you are involved in, you will have to set different milestones on your journey to financial abundance. To give you an idea, I have listed the goals I achieved along the way so far and how I advanced my own business by striving to meet them step by step:
Starting my own freelancing business – check!
Earning $1,000 month – check!
Earning a full time income (minimum of $2,000/month) – check!
Becoming a pro-blogger – check!
Networking with other writers and webmasters – check ongoing!
Taking on other writers (outsourcing) – in progress…
Earning enough to help my husband quit his job – in progress…
Building niche sites to pay me residual income for years to come – in progress…
Working mornings only, while living "my dream life" for the rest of each day – in progress
Ultimately, the last statement is my largest dream. Being able to run my business from anywhere in the world and not having to work all day long every day. My dream is to earn enough money for both myself and my husband and be financially free to work anywhere I please, living the lifestyle of an LIP.
Here is what you can do to determine your very own business milestones.
I'm sure you've heard the terms:
short term planning
medium term planning
and long term planning before
These are common denominations when it comes to setting goals and getting things done. The thing is, while for one of you short term means this week, for others it means the next three months.
It really is hard to throw all into the same bucket and depending on the nature of your business, short term really does mean today. If you are in an industry that deals with fast changes like money, real estate or trends for example, today's hot deal could be stone cold tomorrow. Entrepreneurs in these particular industries have to set different goals than a writer like myself.
Also, often our goals have nothing to do with money but a simple measurement.
Measurements are needed regardless of the business you are involved in and could relate to any of the following and anything else for that matter if I have forgotten to mention it here: time, money, grades, recognition, education, positions, the amount of clients you have, the amount of employees you have, etc.
I'm sure you understand what I mean by now. Unless we use some kind of measure in which to advance our business with, it will be really hard to move ahead.
Measurements evoke another most important attribute. This attribute is called focus.
Without focus most of us would barely be able to earn a dime to support ourselves online, let alone our family. Focus is what gets us out of bed in the morning and keeps us pushing on toward yet another goal when the going gets tough.
As you can see, setting milestones is barely the first step we take when we embark into entrepreneurship. Milestones are a constant evolving matter that power us toward the dreams we always had.
About The Author
My name is Monika Mundell, and I'm the author of Freelance Writing. Learn more from me there.