Focus On Quality – Not Quantity
Written by Monika Mundell · April 23, 2008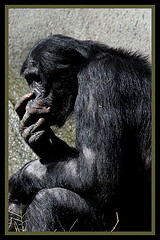 There has been an alarming trend of bloggers lately, who complain about all the rehashed crap that is being blogged about worldwide. I have to agree with this and a sure proof of this is my shrinking RSS feed reader. Bloggers who posted like 5 blog entries about how their ebook performed after being released have been eradicated as well as those who simply blog to sell me their rubbish.
These days I hardly read MMO (make money online) blogs and it looks like I'm not missing out on much anyway. What is it with bloggers who think they should blog everyday but don't manage to put out one meaningful post during the week – yet they are treated like the gods and goddesses of the blogosphere.
Have we really become suckers who simply hang out at a blog because the RSS feed reads in the thousands, even though the blogger doesn't have anything of value to share?
Where has the focus on quality gone?
What do I mean with quality anyway? I guess I'm talking about meaningful posts that either educate, help, provoke or make people really think.
When I first started blogging I also blogged daily for many months. But I soon realized that I was going down the same road many of today's bloggers travel on and that is the road of "overdoing it with unmeaningfull content" that only serves one purpose…to bring them more traffic.
It was actually Maki of Dosh Dosh who got me thinking when he announced that he would cut back his posting frequency in the middle of last year.
I thought, I rather do this myself than write rehashed stuff just because…
Since then I have cut back severely and in my eyes this has been the best thing I could have done. My traffic hasn't suffered at all. Actually quite the contrary and unless I have something of quality (see above) to share with my readers, I won't post.
To be fair, one man's/woman's quality could be another's trash. I know that but I also think you would agree with me when I say there is far too much rehashed stuff floating around online. Just to blog because you ought to is simply like sticking a knife in your throat as your readers will notice eventually if there is a lack of quality.
Instead of trying to sell every affiliate program under the sun and blog about it when the next "wonder" hits the Internet, why not blog about a topic which is your forte and allows you to help educate others instead?
What would be your favourite:
Blogger A: who blogs about this and that affiliate program, posts every day, talks all the time about how they don't really know anything about the make money industry and yet tries to flog an ebook (free or paid) to their readers in order to make money on the back end. Plus they pretend they are the next A-lister because they have enough readers to fill a small stadium (OR NOT).
Blogger B: who doesn't claim to be something special, but makes money in a particular niche and uses his/her knowledge to help their reader with lots of informative and free info. This blogger hasn't got a huge following because he/she doesn't rub shoulders with the A-team, sucking up to whatever they say.
Mmmhh… it is a hard choice, isn't it? Would you forfeit a minute in the limelight for a minute of true learning that can actually help you make money? I guess it comes down to two things:
how gullible you really are
how serious to succeed you really are
Anyway, do you focus on quantity, quality or both?
About The Author
My name is Monika Mundell, and I'm the author of Freelance Writing. Learn more from me there.