The Key To Buying Pre-Owned Domain Names
Written by Monika Mundell · April 15, 2008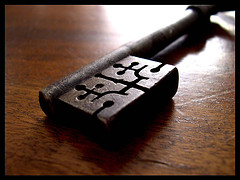 Buying pre-owned domain names can be a real pain in the behind. Why? Because it is VERY time consuming if you do the research right. The whole concept behind acquiring domains that are pre-owned is to:
Not have an issue with Google's sandbox
Hopefully get some indexed pages
If lucky get page rank
These factors alone make it all worthwhile to spend a few hours trolling the TDNAM website. TDNAM is GoDaddy's very own domain name after market. Many bloggers and website owners don't even know that buying a domain name here can save you potentially months of hard work in trying to get listed in Google's search engines for a targeted keyword.
In recent months I have gotten more and more familiar with pre-owned domains and I wanted to show you what I do, when my fingers itch.
Hopefully this will help some of you do the same and snatch up some cool domains for a bargain.
How to start:
First of all, I don't spend more than $50 on any domain ever. I think it is just crazy for a small business owner to do this. Most of the time I buy these domains for $5 plus the yearly registration fee of $9.95 minus the voucher I always find.
The reason I buy these domains is because of my niche sites. Sometimes I go with a brand new one and risk falling into the sandbox after a while and at other times I buy a pre-owned or previously expired domain. This really depends on the actual keyword and how much it pays.
When I search for my domains I always insert the keyword into the search box in TDNAM. There are four ways in which you can choose your search term:
Exact Match
Begins With
Contains
Ends With
From those options I normally start off with Begins With. The reason being is that I like my URL to begin with my keyword as this gives me a little more Google juice.
Do you need to have your keyword in your URL?
No you don't. Contrary to popular belief, you can use any URL to rank just about for anything given you have enough incoming links and age. Yes, you can rank a keyword with a brand new blog, but the listing won't hold. It might stay there for a day if you are lucky and then disappear again.
But personally I always prefer to have my keyword in the URL because it certainly helps me to outrank others in a very competitive field if put one on one.
What to look for:
If you are new to this, I suggest you check out closeouts and ending soon listings first. Those will give you a good idea on what the going rate is for certain domains and what to look out for.
In the end, it is up to you on which domain you choose if you do at all. But here come the helpful tips that will hopefully stop you from buying crappy domains forever.
Tips you need to know:
Go to Google and check each promising domain on whether it has any indexed or cached pages. You can insert this into the search box on Google site:yourdomain.com If it does,

GREAT

. Make a note of the particular

URL

of that page and keep this for reference once you own the domain. You will want to recreate that same

URL

again to help you with search engines.
Check whether the site has any page rank. If it does, good. But this isn't necessary for the success of the site right now.
Now visit WhoIs and check for two things: one, you want to know how old the domain is (preferably 2 years minimum) to be out of the sandbox for sure and two check whether the domain has been blacklisted. If it has, keep your fingers off!
Once you have checked all these factors and all looks great, buy the domain. Congrats, you just scored yourself a great platform on which to build a niche site.
A note: To be eligible to bid for domains on TDNAM you'll have to pay a small yearly membership fee. From memory it is below $5. Also, if you do bid on a domain and paid for it and all, you'll only take ownership of the domain once the listing runs out.
The owner will also reserve the right to renew the domain again if they wish which means that you won't be able to use it. In that case you obviously will get a refund.
Anyway, buying domains on TDNAM is great fun, although very time consuming so don't get too addicted.
About The Author
My name is Monika Mundell, and I'm the author of Freelance Writing. Learn more from me there.