Happy Thanksgiving to all of you in the US. I will be taking the rest of the week off from business activities to enjoy some time with family and friends. I am very thankful for all of you. Have an awesome week!
Next week I will be writing one of the most important posts I will ever write for this blog. So stay tuned….
If you're working online, working smarter is still a good idea. Putting a little thought into what you're going to do next will let you do more faster and with less effort. If you happen to be working solo, this means you can do more without having to outsource as often, take less time, and save some money.
I've found a few things that helped speed up my projects during my time online. To sum them up, you can "Ize" your way to working smarter and getting more done.
1.) Standardize: I have a web page template that works pretty well for my mini-sites, so I use it. Instead of programming all the pages from scratch, I just change what I need on the template, which accelerates page construction and therefore, the rollout time. If you can standardize something like a web page template or some other thing you use often, it will make your work go a heck of a lot faster than reinventing the wheel over and over again.
2.) Methodize: After some muddling, I finally stumbled across a method for creating short reports and ebooks rapidly. It worked so well for me, I even wrote an ebook about it. If you find a method that works for some facet of your web business, keep using it. Eventually, you'll collect enough of these sorts of methods to really make your life easier.
3.) Customize: Sometimes, it's just faster to get something like a WordPress template or a PLR package and customize it to your purposes rather than making something from scratch. My latest ebook was made with a PLR report and some old content I'd written previously, and it sped things up quite a bit. If you find something generic online that you could customize, like scripts or PLR, consider using them as a starting point and do so. Just make sure you know the licensing and permissions before you do.
4.) Prioritize: If you want to get your business off the ground, it'll have to take precedence over frivolous things like TV or other time-wasting pursuits. I'll admit that I can get distracted with the best of them, but you must treat your business like a business. Otherwise, it will never really produce.
There are a few good ways you can work smarter online, and you should take advantage of them when you can. There's no point in throwing a ton of brute force at something an ounce of smart work could do better.
You've heard great things about link trading, right? Well, I have too, and I'm sick of it.
When I first started building sites, I thought it was what I needed to do. A lot of hours and much frustration later, I accomplished next to nothing. Not only that, but I learned there were better ways to get back links, and realized just how much time I had wasted. For those of you that aren't yet as convinced about this as I am, I present to you the 10 things I hate about link trading.
1.) I spent lots of time for little gain. Yes, they put my link on their related link pages, and I put their link on mine. Of course, that was when they bothered to respond, or actually knew how to alter the HTML of their own sites to do that. Some just didn't care if they ever posted my link, and after a lot of wasted correspondence to them, I wound up taking theirs down. This is not my idea of time well spent.
2.) Link trading services aren't much better. Yes, you can put your link in a marketplace and have people look you up, but the end results are still the same. Plus, the service sends you email asking you to upgrade to the paid service, which will cost you money to do more of the nearly nothing link trading accomplishes.
3.) I didn't get jack for traffic. Oh, there were a few exceptions, but for the most part, no traffic. Seriously, when was the last time you went to a web site and thought "Oh, the first thing I'm going to hit is the related links page?" Neither does anyone else.
4.) Related links pages don't have the same page ranks as the home page. I don't know any exceptions to this rule. Don't even take the time to believe that your link is going on the home page. Unless you can make a blogroll, that's probably not going to happen.
5.) You don't know if you're going to be cheated or not. Yes, your link page could be nice, well organized, and short enough so that it's not mistaken for a link farm by a search engine. Do you know your trading partner will have the same? Do you know they'll even have a clue?
6.) Two-way link trades are discounted in the search engines. Nowadays, search engines aren't giving as much weight to them as they once did. They even have services that do three-way link trades now to get around that. Still, how long do you think it'll take some engineer at Google to crack three-way link trading and get their happy little spiders to discount them too? It's going to happen sooner or later.
7.) One way links are better, and you know the sad thing about them? They're easier to get. You just trade some content for them with a little tried-and-true tactic called article marketing. You do less work for more gain, because once you've taken the time to create a good article and post it to some free article sites, it'll spread on its own over time.
8.) There's way too much effort being put into this now-worthless tactic. There are two-way link trading automation scripts. There are two-way link trading services. There are scripts to insure that if someone trades a link with you, they don't cheat you. And they're all a waste, because two-way link trading is miserable.
9.) There are ways to make your links go viral that take less time and effort. You can put them into YouTube videos. You can write viral reports around them. You can create cool content, put it on your web page, and have it bookmarked into a site like Digg. If you do a good job, any of it could go viral. If that happens, tons of people will see your link, and you won't have to spend any time wondering why no web masters ever answer your emails. Ever do that with a two-way link trade? Not a chance.
10.) You might get so frustrated by the futility and low payoff of two-way link trading that you'll write a rant about the 10 things you hate about it. You'll really know you're in trouble then.
As far as I'm concerned, two-way link trading is a waste of your time. There are better ways you can do more and get you better links for less time and trouble. Those tactics are all I ever use anymore, and I get more traffic now than I ever did tormenting myself with link trades.

I am starting a new ongoing feature on this blog called "Link bait Examples". This is the first post in this ongoing series. Whenever I find something on the web that is an excellent example of link bait, I will write a post about it.
The other day I found a great example of link bait when I came across the site Super Obama World. Super Obama World is an online video game take off on Super Mario World that pits President elect Barak Obama against lobbyist, pork, etc. You get 50 lives and when you get to your last life it never ends. So essentially you can't lose 🙂 It's a pretty cute game (my kids like it a lot) and it is a great example of link bait. Here's why:

It Focuses On A Popular Topic (Barak Obama)
The game was launched during the election and let all of Barak Obama's rabid fans have something they could send to each other for fun.



It Is Unique
There aren't many video games made for Presidential candidates. Especially not professional quality video games that are as well made as Super Obama World.



It is Fun
Super Obama World is a fun game. Anything that is fun (NOT

BORING

) is much more likely to get natural links to it.
Super Obama World was such good link bait that major news sites (including Yahoo) linked to it.
This game is used by an online video game company to draw people to their game site. It's a great way to do this and thus serves as a great example of link bait. This game could also have worked as great link bait for a liberal/democrat leaning political blog.
I put up a new poll earlier this week, so I wanted to show you the final results of my last poll. Here are the results, followed by my quick thoughts:
How long have you been trying to make money online?
0-3 months (27%)
3-6 months (14%)
6-12 months (13%)
1-2 years (13%)
over 2 years (33%)
Total Votes: 175
I found it very interesting that 1/3 of the people reading my blog have been trying to make money online for over 2 years. I would have expected that number to be lower. It wasn't too surprising at all that over half (54%) of you have been trying to make money online for less than a year. However, I did expect that number to be slightly higher.
The results of this poll show to me that the audience of this blog is split pretty evenly between beginners, intermediate and advanced level Internet marketers.
What do you think of these results?
After significantly increasing my newsletter subscription rate by adding a pop-over opt-in box on this blog, I was curious what you thought of it. So, I have created a new poll to find out what you would do if your favorite blog added a pop-over opt-in box to their site. Take the poll below and let me know what you think of pop-over opt-in boxes.

PS. My friend Daniel at Daily Blog Tips, created a similar poll with a different question. Go check out his poll by clicking here. I am interested in the results of both of our polls.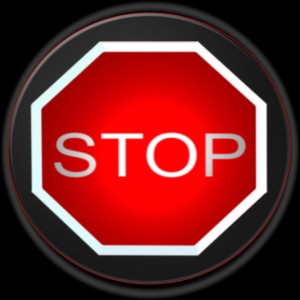 All traffic is
not
created equal. There are plenty of methods to generate website traffic, but there are also plenty of methods to waste your time and money as you try in vain to get worthwhile hits. Unfortunately, there are also far too many people willing to sell you the kind of bad traffic you don't want.
If you're trying to sell something or get a sign-up, you need interested traffic. Not all methods produce interested traffic, and here are a few to avoid.

Expired Domain Name Traffic: Sites that sell this sort of traffic say that they're redirecting some of the combined traffic from the tons of expired domain names they own to you for a fee. And yes, if you buy this sort of traffic, you get hits. Unfortunately, you don't get anything else, and you can't even confirm that your hits are real.


Pop-up/Pop-under traffic: When a company advertises that it can send you tens of thousands of hits for some ridiculously cheap price, they might be talking about pop-up or pop-under traffic. The problem is that you could be getting traffic from a pop-up or pop-under placed on any kind of site. That site isn't necessarily related to yours, which means this kind of traffic is hit-or-miss at best.



FFA

(Free for All) sites: Also called link farms,

FFA

sites are sites where you and everyone else can list a link and a description of your site for free. The first problem with this is that the links are constantly rotating, so yours won't last long. The second is that not only will you not get traffic, exposure, or a back link credit from a search engine from an

FFA

site, but you'll wind up with a ton of spam because they'll want an opt-in to their list in exchange for letting you post a link.


Anything that sounds too good to be true: A zillion hits for next to no money? Blasts your link to tens of thousands of sites for free? Chances are they're advertising some junk traffic technique or another, and that all you'll get is wasted time and money.


Some ways to get traffic to your site just aren't worth it. As frustrated as you might be by only getting a trickle, don't waste your time or money on junk traffic.
You're going to need content, sooner or later. It'll be things like articles for blogs, content for autoresponders, or things to sell. Fortunately, there are several ways you can get it.
1.) You can write it, which takes the most time but gives you the most control over the final product. You can use it any way you want, and take credit for it.
2.) You can buy the rights to it with Resale and Master Resale Rights. Simple, but very restricted use because you can't alter it.
3.) Have a ghostwriter create it for you as a work-for-hire, which will cost you money but give you far more control over it than resale rights.
4.) Split the difference between resale rights and doing it yourself by buy a product with Private Label Rights (PLR).
If you've never heard of it before, the simple explanation of Private Label Rights is to buy shared ghostwritten content. You buy a PLR article pack or report, and then modify it any way you want. You can break it up into articles or posts, use it for ebooks, make autoresponder mailings out of it, and so forth.
The down side is that you're not the only person to buy that PLR product. That means that you'll have to make some modifications and additions to inject some originality and uniqueness value into the work. Otherwise, you'll just be selling something a lot of other people are selling, which makes your life more difficult.
You can get Private Label Rights products at sites like Surefire Wealth and EasyPLR.com, but remember that PLR is still a form of licensing. Don't buy the product without being able to see the license first, and don't presume you know what the license grants you just because something is offered as PLR. If you can't get a straight answer from a seller if you're in doubt, don't buy the PLR product.
PLR products let you add to your offerings and gain content without too much expense, but will still take a little work to personalize. It's a sort of midway point between writing content yourself and a full-fledged ghostwritten article. It's worth it to use it, but remember its limitations.
I have known for quite some time that using a pop-over opt-in box will increase your newsletter subscription rate over the standard opt-in form placement in the navigation bar on your site. I have never implemented pop-overs, because I was concerned that it would tick off visitors to my site. After reading about Darrin Rowse and Michel Fortin's results with using a pop-over opt-in I decided to go ahead and try it out myself. So here's what happened…
The Results of my pop-over opt-in test…
The first day I added a pop-over opt-in box on this blog, my newsletter subscriptions per day doubled. The second day my newsletter signup numbers tripled. And on the third day I had six times as many new subscribers as usual. This increase in number of subscribers per day has continued with anywhere from 2-10x the number of subscriptions every day. Needless to say I am very happy with the results and will continue using the pop-over!
I use AWeber to manage my email subscriptions, so it made sense to use AWeber's lightbox hover option to create the pop-over opt-in box. The lightbox hover pop-over opt-in greys out the background of my blog and puts the opt-in box on top of my blog's content. It looks something like this: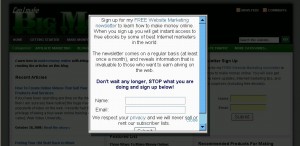 One quick note about the pop-over box. I set it so that it is only displayed the first time you visit my blog. On subsequent visits it won't show up. I thought that setting it to only show up once per visitor would keep it from being to intrusive.
If you don't use AWeber, there are other ways to do this. One other way to do this is by using the wordpress plug-in that Michel Fortin mentioned in his post, called "Action Pop-up". It has a few more options than AWeber's built-in lightbox hover option and it can be used with other newsletter programs.
The bottom line is that if you want to increase your email subscriptions you should immediately start using a pop-over opt-in on your site or blog. It will help you make big money online.