This past Thursday morning at 2:49am our sixth child was welcomed into the world. It was a great homebirth… baby and mom are doing well. You may not hear much from me for the next couple of weeks.
Here is a picture of our baby (click on the picture to see it in full size):

The SEO strategy I intend to use with my new sales letter page is noteworthy in one big way. I have no intention whatsoever to engage in any link trading to build my link popularity. There are no reciprocal linking pages, and I'm not sending out requests every day to other web masters. Frankly, it's just too much effort for me.
I don't miss it. I did link trading through an automatic service on my last sites, and it didn't amount to much of anything. The search engines don't give reciprocal links all that much weight anymore, and no traffic ever came from more than one or two of them anyway. So the results really weren't worth the trouble.
This isn't to say you shouldn't build links, because I have every intention of doing so, just like you. You still need them just as much today as you ever did. But what you need are one-way links that don't require you to reciprocate, and are thus worth more in the eyes of a search engine.
If you want these kinds of links, and you do, you'll have to find something else to trade for them. With affiliate programs, for example, you trade commissions for someone putting a one-way link to your site in front of interested people. But a classical, inexpensive, and worthwhile tactic is to trade content for them.
This is called article marketing, and it's been around for a while. Blogs, ezines, and web sites are always looking for content, and you could provide it for them. You write an article in your niche, polish it until it's desirable for someone else to publish, then put it on a free article site or pay an article announcer to mass broadcast it. Your payment is called a resource box, which is a short blurb about you, a one-way link to your site, and a reason why someone might want to visit it.
This will give you those highly desirable one-way links you want. Plus, articles do all sorts of other things on top of that.
When you write an article relevant to the topic of your site, it helps pre-qualify the traffic going to your site, giving you far more targeted traffic. That helps the bottom line of getting someone to your site, such as conversions, sign-ups, additional

RSS

syndication, or whatever your desired result happens to be.


Demonstrating your aptitude by giving away small but useful bits of information in an article helps increase your credibility in your niche.


Articles and their attached links are viral. The same article could be posted on a growing number sites or blogs over time, increasing your link popularity without any effort on your part across months or even years.


If your article is used in an ezine publication, you could see a traffic spike.


For some added incentive to get people to use them, you can put an article or two in your affiliate areas and tell your affiliates they can rebrand the resource boxes with their affiliate links. This is the small-scale version of the viral, rebrandable report theory.
I highly recommend article marketing to anyone who wants to create one-way links, link popularity, and the occasional traffic spike to their web sites. Once you get good at it, you can simply type your way to worthwhile backlinks. It's a far better method than wasting effort on near-useless reciprocal link trades, or spending money buying traffic from paid sources.
I just finished reading Scott Boulch's latest FREE ebook "The Internet Marketing Cure" and it is a very good read. In his free ebook, Scott discusses some of the techniques being used by Internet marketers to scam people out of money, how these techniques are hurting the industry, and how to find good Internet marketing teachers. At the end of the The Internet Marketing Cure Scott reveals an online business model that will help you make big money online.
I highly recommend that you check out Scott's free ebook to learn how to avoid Internet marketing scams. I do get 50 cents for every person who downloads the free ebook using my affiliate link.
To use my affiliate link and download the ebook, click here to download the Internet Marketing Cure report.
Here is a link WITHOUT my affiliate code (I won't make money from it, but I want you to read it anyway):
The Internet Marketing Cure
I hope you enjoy it and feel free to let me know what you think of it…
Disclaimer: I might be slightly biased in recommending this ebook, since my friend Austin is very close friends with Keith Baxter one of Scott's business partners.
Have you ever felt like you couldn't do certain things in life. You know, you might have a certain health ailment that (in your mind's eye) stops you from aiming higher. Or else you have no money and feel that you can never follow your dreams.
When we perceive things a certain way, it isn't always to our advantage either. Most likely you might prevent yourself from achieving more in life because your belief's are limited.
When we are blocked due to misconception we freeze and give up before we even try.
But what if the only difference between those who we look up to, the people we admire is the fact that they just override their own negative perceptions to give it a try. Regardless of the outcome.
That though alone is powerful enough to start wondering whether limiting ourselves with certain beliefs is the wrong thing to do. It's like telling a child that it will never aspire to anything because it might be blind. Or looking down at the person with no legs because we feel he/she hasn't got the same opportunities than we do.
While this is certainly true in some ways, we cannot perceive this as their loss "just" because somebody is missing something. People have aspired to the most amazing things with a lot less than the common household owner has available to them.
As a matter of fact, sometimes it is better to have less to achieve more. When we are not blinded by false perceptions and shallow external influences, we tend to reflect more into ourselves and start focusing instead on our inner core and strength.
One of the problems with self limiting beliefs is that it will hold us back from achieving our true potential. Take the climb to Mt Everest for example. In its whole history of modern climbing expeditions, hundreds of people have died on the mountain. Most of us see this as proof to an seemingly unsurmountable mountain that is deadly for most who attempt to climb it.
By the end of the climbing season of 2007, some 2,436 people had managed to climb the summit of Everest since Sir Edmund Hillary and Tenzing Norgay reached the summit in 1953.
Now when you take the cost into account to climb the mountain these days, the fitness level required and the altitude at which climbers exercise their dream, it is of no wonder that most of us say "thanks, but no thanks" when we briefly consider the wonders of climbing Everest by ourselves.
But are we doing ourselves a disfavour by holding back on our beliefs, thinking it isn't possible to do this for an average human being? I'd like to think so. Most of us could actually do this or at least go some of the way if we only tried.
If people with no legs can climb Everest, so can we. Sure, we need to be resistant to altitude, be tremendously fit and have the right mental attitude, but most of these attributes can be acquired by training and with focus.
Taking Everest as an example might be a bit much for some of you, but I wanted to show you that we often limit ourselves because of perception.
Each one of us has a lot more potential within than we like to think.
How to raise your awareness to your own negative perceptions. Watch for signs of negativity within your behaviour. The next time you catch yourself saying "no, I can't do that", ask yourself why. Is it because I don't want to do that or because I believe I can't. It is important to understand the difference in the two as the second one might actually hold you back.
Instead of saying "I can't do that" say "why not. I can." Even if at the time you don't really belief this. It is amazing what the power of words can do to our perception. The more you repeat the words I can, the stronger your resolve will become and eventually you will make it your belief too.
About The Author
My name is Monika Mundell, and I'm the author of Freelance Writing. Learn more from me there.

Occasionally, you may have come across things like "Automated Sales Machine" and "Sell While You Sleep" in someone's sales letter copy, and it sounds too good to be true. But, is it just sales hype? Yes and no. Yes, you can set up an automated sales machine that works while you sleep, and without your input. It's called an autoresponder.
Your email marketing service can help you collect names and email addresses, but it can also store and then automatically send pre-written messages as an autoresponder. Autoresponders automatically send emails out to those who sign up for your list once you define the intervals and the email bodies you wish to send. Those emails can contain information, affiliate links to other products you're promoting, or other things you might want to send to your list.
They can also be used to defeat customer resistance in advance of pitching a more expensive product. You may even have seen sites which say "Sign up for my free report series" or "Sign up for a free chapter". This is an attempt by the merchant to use an autoresponder to sell his product, and put you on his list in the meantime. Most people have to see an ad seven times or so before they respond to it, and you can help overcome that obstacle with just this technique.
Now for the "no" part. No, you're not going to manage this instantly. Autoresponders messages, just like sales letters, have to be optimized, tracked, and tested. Once you've done this, then yes, you have an "Automated Sales Machine". Until then, you have to determine:
If anyone is joining your list in the first place, and if not, how to change that.


If the messages are being received, and if not, how to make the spam filters happy.


If the messages are being opened, and if not, how to fix the subject line.


If the messages are opened, is anyone buying through them? If not, you may need to add a few more educational autoresponder messages or work your pitch.


So again, yes and no. Yes, you can have an automated sales machine with an autoresponder that will work without your input even while you sleep. No, you're not going to have it instantly.
I have been very busy getting ready for the new baby, but I wanted to give you a list of all the awesome videos the folks at StomperNet having been putting out. They are just too good to keep to myself. Here are all the videos they have put out leading up to Thursday's reopening of the program…
Enjoy all the great StomperNet Videos. And if you want to test out their membership program, then check out the sales page by clicking here Thursday at 3pm.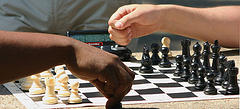 We all have competition, regardless what we do in life. Whether we are working for a boss, pushing a baby stroller through town (that will be you George) 🙂 or compete in the next local triathlon, competition is what makes us strive further, higher, faster and better.
Competition is healthy, in a measure portion. It does however become unhealthy when we take it too serious as this can lead us to being obsessed. In business competition is what strives us to do even better than the guy next door. Because business is often cut throat, we need to stay on top of the game, whatever game we play, to stay competitive in our industry.
We can learn a tremendous amount about ourselves by studying our competition. These studies can help us to become better at what we do.
Look at their trend: Can you identify a pattern in your competitor? Is there something they do consistently, or do they chop and change their tactics all the time? Are they busy with what they do? Is it working? By seeing a pattern emerge we might find some great insights into what we can do better to keep on par or even provide a much better service than they do.
Study their angle: Are they marketing aggressively or do they use soft tactics instead. How do they present themselves on their marketing materials such as brochures, websites, blogs? Often when we enter a new business or industry these kind of observations can give us tremendous amounts of information on how we should proceed.
Of course it isn't advisable to follow a business that isn't doing so well. You want to study somebody who is ahead of you in the game in order to grow and move ahead.
Study their advertising to pick up on their target market: How do they advertise, if at all? Are they targeting young professionals, mothers or generation X. What language do they use? Are they using a lot of bait, or is their marketing based on telling stories.
Find out where they advertise to attract clients: In today's marketplace there are virtually thousands (if not more) ways to advertise. Let's look at the most common (please drop me a comment if I forgot something important).
Offline:
Newspapers
Magazines
Flyers/pamphlets
Direct Mail
Yellow Pages
Phone book
Trade Journals
Online:
Websites
Blogs
Niche Sites
Ezines
Article Directories
Online Job Boards
Online Job Search Places
Online Newspapers
Forums
Advertising doesn't always mean that a business pays to be seen. For example in forums you participate to establish a presence as a industry specialist. On article sites you do the same. The purpose of niches sites is to serve the needs of a specific market and so on.
Pulling all the data together: While assembling all that data only to forget about it again isn't very helpful to any business, you should make use of it here and now. If you realize that your competitor is onto something really good, then follow suit, but be better. Offer more.
Doing it in style: We don't have to be overly aggressive in competing. Often the quiet competitor achieves way more than the guy who shouts murder from the rooftop. If you are smart, then you know where your competition stands at any one time. It allows you to keep stock of your own advancement and gives you great motivation to push your limits higher.
An important end note: While competing is fun, exciting and sometimes also exhausting, it should never become frustrating.
The moment it does, it means that you are measuring yourself against your competitor and that is very unhealthy indeed. You shouldn't compare yourself to anybody else but you. You don't know the other person's history, their abilities, their background. Therefore we can never be on the same par with others in our industry, we can only offer better service.
What do you think?
About The Author
My name is Monika Mundell, and I'm the author of Freelance Writing. Learn more from me there.

I have been VERY busy getting ready for our new baby to come. So I wasn't planning on writing any news related posts, but…
This news is TOO BIG
If you haven't already read about it, New York has passed a state law that is going to seriously affect online businesses. I found this out first on Andy Beard's blog when he wrote "Amazon vs New York – Affiliate Can of Worms". Amazon is suing the state of New York over this law that will require them to collect sales tax from New York residents even though Amazon is not based in New York. For the legal/tax aspects of this issue click here.
The next day Andy wrote:

Today's news is that Overstock have decided that they are axing 3400 affiliates in the New York area because of the previously reported "Amazon Tax" – which Amazon is fighting.
Apparently, California is considering passing a similar law.
I imagine many other companies will follow Overstock's lead. I plan on launching a product this year with an affiliate program, and I now plan on restricting affiliates from New York from promoting my product. That kind of stinks… but it seems like the best option.
Anyway, all of you New Yorkers should move to Texas, because as a conservative as we are here, Texas will be one of the last states to adopt this ridiculous policy if it ever gets past the Supreme court…
Oh, wait Texas has thrown their hat into the ring too... UGHH… so much for my Texas pride, good thing I am originally from Florida… Florida would never do such a thing, right?
You've finally completed the groundwork for your latest income strategy, be it a sales letter
or something else. It looks beautiful. You've slaved over the copy, put the images where they should be, and then you posted it to the Internet and started driving traffic. The problem now is, you're job is only half done.
Now it's time for the optimization. This is a fancy word that means you:
Test


Change


Retest


Change some more


Beat your head on the wall


Scream at your computer


Pull on your hair


Then repeat until you have a sales letter/opt-in form/solo ad/whatnot that does what it's supposed to do.


I'm currently at this stage in my latest ebook release, but not far enough along for the hair-pulling or scremaing yet. Have no fear, I'll get there eventually.
You may have already noticed already that it's not my favorite thing to do. It won't be yours either, but it's an absolute necessity if you want to successfully sell. Unless you're a prodigy, you're not going to get whatever you made right on the first shot. That's quite all right, because that's the way it works for the vast majority of us.
So, here are a few things you might want to change or test if your site or strategy isn't performing as planned:
Initial impressions: The initial impression is the very first sensation someone gets when they land on your site. You don't have long to make a good one, so if you're not garnering any conversions and your site stats say the visitors are only staying for a second or two, you have an initial impression problem. Headers, layout, and colors all affect this.
Your headline: You've probably seen The Big Read Headline. It's the "Attention" portion of AIDA, and makes a huge difference in whether or not you get and keep someone's attention. Make your headlines short and hard-hitting, and if its not working, tweak the wording, word-wrap breaks (which you can manage with a <br> HTML command), and embellishments like quotation marks or underlines.
Your copy: It helps to go back to your copy once you haven't looked at it for a while, because you give yourself some objectivity. You may notice things like awkward sentences, weak selling, and bad layout that makes it unpleasant to read. Again, these are things which require tweaking over time, and small things like the font family and its point size.
Images: Chances are I'm going to have to get a header for my new site, and I'll be doing that soon. As I stated last week, other images like your picture, ebook covers, return guarantee ribbons, and fancy 'Buy Now' buttons might be necessary to add, or you may have gone too far and have to remove a few things.
Yes, I find optimization is about as much fun for me as a dental appointment, and even worse, takes much longer than a dentist would. It is a necessary evil though, and obligatory to make your sites convert like they should.


What do I think about Aaron Wall's SEO Book?
I have been meaning to review Aaron Wall's SEO book ever since I interviewed Aaron last year. I am finally getting around to it.
First of all I want to say it's REALLY, REALLY loaded with information! His ebook had over 300 pages and his training program has more information than his ebook ever had.
The SEO Book training program covers A LOT more than just Search Engine Optimization. In addition to SEO, the SEO Book covers:

Copywriting


Social Marketing


Website Usability


Website Monetization


Blogging


and more!


Aaron uses a combination of articles and videos to teach you how to rank high in the Search engines. He also teaches you just about everything imaginable about marketing a product or service.
Not only that, but the SEO Book has a private online community where you can ask and answer questions of both Aaron and other members of his program. The community really blew me away. I have been a member of many paid online communities and none of them were as good as the one that Aaron runs. The most amazing thing to me about the community is how active Aaron is in it. The last time I checked Aaron Wall had 2,799 posts (16.26 posts per day). If you want to get direct advice from Aaron then you should sign up soon, because I just don't see how Aaron can continue to be so active on his forum and continue to take on new members. It doesn't seem like a very scalable business model to me.
Anyway, if you are new to online marketing or you want a great place to learn about online marketing (especially SEO) then I recommend that you click here to join the SEO Book Training Program. It is one of the best deals on the Internet for beginners to learn how to make money online.
img by
jimmyroq
Working from home poses its own challenges for people who do, namely working in a somewhat lonely environment, deciding on whether to shower, dress for success or simply working in our PJ's. Either way, whatever we do, it does require some form of control and measure to get things done in a timely matter.
The biggest issue work at home entrepreneurs have would probably fall into time management and staying on track of our goals. After all, it is only too easy to get sidetracked with important visits, movies, game nights, shopping, outings and what not.
I'm sure that if you fall under the label "self employed, working from home" you have your very own demons to wrestle with at times (or had in the past at least).
What were your biggest issues and how did you grasp them in the end?
When I first started out in my first home business, I always dressed up, brushed my teeth, combed my hair and did everything else I was supposed to do to run a successful home business.
After all, working from home is no different than working for a boss, except of course that we are the boss. Or so I thought… soon enough I learned that following the same behavior to get ready for work than if I was actually going to an employers premises didn't really work out as I hoped it would.
All the nice suits, cool hairstyle and mint fresh breath didn't get my work done, did it.
No, I learned that instead of living that pre-cut life of doing things this and that way, I was better off to focus on the actual tasks at hand and really stay the course.
Since nobody is watching over our shoulders except perhaps our spouses and clients (if we have them) it is a challenge for many entrepreneurs to stay on course of their self imposed work schedule.
Perhaps that is why it is so easy to make excuses, since we "only" work for ourselves.
To do that you would only kid yourself and risk your own lifeline and success. After all, if we make too many excuses nothing good will ever come out of it.
Don't you agree?
So what is the secret to keeping the focus without falling prey to daily distractions while working from home?
Personally I think the most important part of running a business from home is to set targets. But not just any targets. They have to be in bite sized chunks to stay manageable. It also helps to factor in distraction time every day.
In the years I have been online I finally learned that no matter how many tasks you set yourself every day, you will fall short of them on most days due to unforeseen distractions. As long as you allocate extra time for this, you won't have any issues. I also learned that setting myself too many targets never works out so I keep them in a manageable way.
What works for me is to take 2/3 of my working day and plan it out while leaving the rest free for the less important work that has to be done regardless. This has worked really well for me over the past year.
Maybe you have your own tips on how to work successfully from home.
About The Author
My name is Monika Mundell, and I'm the author of Freelance Writing. Learn more from me there.

I wanted to let you know that StomperNet is releasing a bunch of free videos in the next couple of weeks that you really should check out.
Their first video, talks about how StomperNet co-founder Brad Fallon's Wedding Favors site was dumped from Google's Search Engine results. It also tells you exactly what Brad did to have his best 6 months ever – without a home page listing in Google by using PPC (Pay Per Click) advertising.
You can watch how he did it, by clicking here.
Also, be sure to keep your eye out for more videos from the StomperNet folks. Their videos tend to be REALLY good.