Yesterday, I mentioned this new free viral ebook called The Rockefeller Files. I took a look at it, and my thoughts are mixed. The points made in the book are good, BUT…
I have seen this same information in different forms over the last 20 years of my life.
It reads like a synopsis of the Anthony Robbins book "Awaken the Giant Within", which I read many, many years ago.
Anyway, The Rockefeller Files is a decent read. I didn't find it earth shattering, but that may be because I have been exposed to this sort of thing ever since I was a teenager.
The one thing, I really don't like about it is that it doesn't really leave much room for God, but that can be said about a lot of books.
That said, there is some really good information in it. What do you think about The Rockefeller Files? Do you like it, hate it, don't care?
There is another one of those viral ebooks going around. This one is called The Rockefeller Files.
You get 50 cents anytime anyone signs up and downloads it. I haven't read it yet, but I started listening to the mp3 that comes along with it. It claims to teach you the secret to becoming wealthy.
I will let you know what I think about The Rockefeller Files once I am done reading it. Feel free to let me know your thoughts about it as well. You can click here to download it for free.
Earlier this week I noticed a post by Rob about the Z-List. He heard about it from Dosh Dosh (who added my blog to the list).
After coming across it again on Emigre's blog I decided I should go and ahead and write a quick post about it.
So here is the deal. The Viral Garden wrote this post to start the Z-List in motion. Basically, the Z-List has two purposes:
1. To help you get more links and traffic to your blog.
2. To build more links to other people's blogs that you believe should get more recognition.
You can go check out the latest Z-List I know of by reading emigre's post and add it to your blog along with your favorite under-recognized blogs. It sounds like it is helping bring bloggers new traffic and it is definitely creating more links to their blogs.
PS. Thanks Dosh Dosh for adding my blog to the Z-List.
Last week, I asked Daniel Scocco of (Daily Blog Tips and Innovation Zen) if he would let me do a quick interview with him.
For those of you who don't know this, Daniel was nominated for the 2007 weblog award for Best Web Development Weblog.
Daniel agreed to the interview and it is my pleasure to share it with you. I am sure it will be of benefit to those of you just getting started in the blogosphere.
Q. What were the first thoughts that went through your head when you found out?
I discovered the nomination looking through my server statistics. There were 27 visitors coming from the Bloggies website. The interesting thing is that the nominations probably were released one hour or so before my server uploaded the statistics, hence why I had only 27 visitors. The next day, in fact, I received almost 1000 visitors from the Bloggies. It was quite a surprise to me, specially when I discovered the blogs that I was competing with (i.e. Problogger, A List Apart and Copyblogger).

Q. Why do you think your blog was nominated?
Sometime ago I had published a post about the Weblog Awards, with a link where people could go and nominate their favorite weblogs for different categories. I think that some of my readers headed to the website and nominated Daily Blog Tips, and probably I was also lucky for having a couple of more votes than the runner up. Either way I am really thankful for the people that contributed to it.

Q. How did you get started in blogging?
I have always played with websites when I was younger, but I never had the time to create and actually publish them. Early in 2005, however, I came across some articles outlining the benefits of blogs and explaining how easy it was to setup one. The next day I registered for a Blogger account and created a blog to share my ideas about innovation management (most of them were coming from my thesis).

Q. What do you like most about blogging and why?
In my opinion the Internet used to be a monologue until a couple of years ago. You had big portals providing information for the people, but the flow of information was unidirectional. The appearance of blogs, in my opinion, contributed to change that scenario. Nowadays you have this huge conversation going on across the Internet, which creates much more value and opportunity for everyone.

Q. If you could only give one piece of advice to someone just starting to blog what would it be?
I am afraid I will need to use a cliché here, but the single advice I would give to someone starting out is: content is king! You surely can (and sometimes should) pay attention to the design, search engine optimization, promotion and so on, but if you have great and original
content the readers will come and so will the links.

Q. In your opinion, what is the most crucial element of a blog post?
Well it is difficult to nail down THE most crucial element, but if I had to I guess I would say the title. Titles play a very important role on the reader decision about reading the post further or just skipping it altogether. Other important elements are: the post should be scannable, should not contain grammatical errors and should go straight to the point.
Q. Is there any other advice you would like to share with people looking to start a blog?
Start it today. Everyone commits mistakes, but the sooner you start the sooner you will learn your way through.
I discussed my early opinions about MyBlogLog last week. Shortly after publishing that post I found out that Eric Marcoullier (one of MyBlogLog's founders) and copywriting guru Michael Fortin visited my blog.
How did I find this out?
By looking at the MyBlogLog widget on my site. Here is a picture that I screen captured of their profiles (circled) on the "Recent Readers" widget for this blog: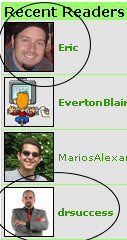 Apparently, I am not the only one who saved a screen shot of my recent readers list. Rob saved this screen shot of my recent readers, because Darren Rowse of Problogger visited my blog and Darren's picture just happened to show up right next to Rob's icon in my reader list.
I really like the networking aspect of MyBlogLog, but from a "Hey that's cool!" aspect the "Recent Readers" widget is coolest. While it does take up valuable real estate on your blog, at this point I think the "coolness" factor outweighs that.
What do you think? What is the coolest feature of MyBlogLog to you?
While I was in Florida, I got an offer from Alex Jeffreys to take a look at Easy Profit Auctions (aff). Now, let me start this off by saying that I am not really interested in getting involved in selling products on ebay. However, after taking a look at Alex's product, I am having serious second thoughts about that.
So here's the deal…
Through tons of trial and error, Alex discovered a system of making money through ebay by building email lists, selling products, and selling products on the back-end to his list. His system is rather interesting and definitely worth looking at, especially if you are interested in selling ebooks and/or other products.
He also has some great audios, videos, and a private membership forum. There was one tip in his audio interview with Jason James that I would have paid at least 100 dollars for. It was something I have been wondering about for a long while.
Of all the products I have reviewed in recent times, Easy Profit Auctions hand's down gives you the most bang for your buck. Based on other products I have bought and/or reviewed I would say that Alex should be charging around 1000 dollars for a lifetime membership, but he is only charging a one time fee of $97 dollars for a lifetime membership.
My guess is that Alex will change over to a monthly membership fee soon, because his membership site is WAY underpriced.
Normally, at this stage in my review I would tell you what I didn't like about the product, but quite frankly I am having a hard time doing that. I guess Alex could have made more audios, and videos for the site, but since he is working on doing just that I can't really think of a downside to Easy Profit Auctions.
Anyway, I highly recommend checking out Alex's Easy Profit Auctions site by clicking here. I am glad I did.
Daniel of Daily Blog Tips had the briliant idea to host a blogging project, where the participants would give Daniel a traffic tip and then he would post them all on his blog. Not only that, but all of the participants would then post the tips on their blog thereby giving out mass link love to eachother's blogs. Anwyay, what resulted was a really nice list of traffic tips.
Here is the list of blog traffic tips and my comment under each one in red:






























If you follow the tips above, you should get some good traffic to your blog…
We have a new writer working for us on our Positive Sports News blog. Neither Jill or I have had the time to write on it anymore, and it just made sense to hire at least one person (maybe more) to keep up the blog. John DeBroeck (the new writer) is a former homeschooler turned college student here in Texas. He is very interested in sports journalism and he is a perfect fit for our positive sports blog.
I am looking at outsourcing some more of our content creation. We already have some people lined up for the work.
Why am I starting to outsource more of our content creation?
Well, here is the thing. At this point in time I have to outsource some business tasks in order to continue to grow our business. I analyzed our primary business needs and I discovered that the best use of our income would be to hire people to create content. I believe it will give us the best bang for our buck at this point in time.
The next thing I plan on outsourcing is probably going to be web design. We have a few blogs that I would like to redesign (this one included), and I just don't have the time to do it. Outsourcing this work makes a lot of sense.
If you do any outsourcing, I highly recommend you have a business plan and business goals in place BEFORE outsourcing. I also highly recommend you read Rich Schefen's Internet Manifesto series and follow the steps he outlines in his free ebooks.
I have decided to go ahead and test placing Google Adsense ads in new positions on one of our blogs. It has been a while since I tested Adsense placement on any of our sites and maybe the results will be different now.
Anyway, I moved the ads from inside the posts (like on this blog), to a banner above the first post and a skyscraper ad in the left navigation bar. I actually like the way it looks better, so I might keep it that way. Anyway, you can check the new look on our Positive Sports News blog by clicking here. Depending on the results of the test, I may make more changes and/or change some of our other blogs.
PS. We have a new writer on our sports blog and I will write about that later today.
Tammara Nelson at Link and Blog, just announced a much improved Link and Blog Challenge site.
Link and Blog Challenge is kind of a mix of MyBlogLog, and a forum for those wanting to exchange blog links using creative methods. It will be real interesting to see how the site evolves.
I just joined it and I recommend that all bloggers looking to increase their traffic click here to go check it out. I don't have much time to look at it this weekend, because some of my kids are under the weather.
I will let you know what I think about it, once I have participated in a few challenges. What do you think about it?
Here are some interesting Internet Marketing articles that I read this week. The first post by copywriting guru Michel Fortin is a MUST read for bloggers. Not only does he give good advice, but he offers to rewrite one of your blog headlines for free!
Are Headlines Tangling Your Readers?
Don't Be The Best… Be The First!
What ProBloggers Can Learn from TechCrunch 20
Campaign to Reduce Wikipedia's PageRank to Zero via (jazzcatseo)
Last month, we got a comment from CBS on one of our blogs and I wrote a post on that blog titled, Did We Get Blog Spam From CBS?
About a week ago, a comment comes in on that post titled Did We Get Blog Spam From CBS?, from guess who?
Yes, you guessed it – CBS. Here is the text of the comment:
CBS

is giving you the chance to win a trip to Los Angeles to visit the set of

JERICHO

!

As fans know, every episode of JERICHO starts with Morse Code. During the last two original episode (which aired on CBS in November) the Morse Code started to form a sentence. It reads: "It begins with 6 and ends with…"

Starting now through Monday, February 19th at 8:00 AM, ET, viewers can go to www.whodroppedthebomb.com to submit the word or phrase (not the Morse Code) that they think the final Morse Code translates into. A random selection of entries will be featured each week on the JERICHO web site. Every entry has a chance to win. The winner will be picked at random and announced on Wednesday, Feb. 21 on whodroppedthebomb.com.

Check out the link for more details: http://www.cbs.com/primetime/jericho/

I find it pretty funny. I don't mind the comment at all, because it is relevant for that blog. It's just not where I would have chosen to post the comment.
Anyway, go check it out for yourself by clicking here. Then come back and let me know what you think.