I was just reading Seth Godin's blog (if you don't read his blog on a regular basis, you should) and he had a very interesting post on website traffic today.
While I agree with him that it is important to get relevant traffic to your website, I believe that large amounts of untargeted traffic can still be good for your site. Untargetted traffic can be good if your site is set up to account for it.
Let's say someone comes to your site and they don't find what they are looking for. Most people will click the back button, unless…
You have contextual advertising on your site that looks like it might answer their question. Then that visitor might click on the ad, bringing you money and the advertiser targeted traffic.
For instance, let's say that I wrote a post where I included the words, "how", "foot", "in", "a", "mile" somewhere in the text of the post. And someone asked the question, "How manty foot in a mile" in a Search Engine. They come to my page and it doesn't answer their question, because they got to my page by mispelling the word "many", with my last name of "manty". They would know quickly they were in the wrong place and want to leave.
What if that post had a PPC adverisement that looked like it answered their question?
Chances are good they will click on the pay per click ad to get them to their answer. So untargetted traffic actually paid off for me in that case.
Ideally I want traffic that will return time and time again to my blog, not just people accidently stopping by. So while not ideal, untargetted traffic can pay off if you are using contextual advertising (like Google Adsense) on your site. If you are not using contextual advertising, then untargeted traffic is for the most part a waste of time.
BTW - For those wondering there are 5280 feet in a mile.
This week was pretty crazy for me. We had a birthday party for one of our kids, we had car problems one day, we spent time getting ready for our oldest child to go visit his Dad in Washington and Jill took him to the airport this morning. So I didn't really have a lot of free time to do much business wise this week.
Mostly, I prepared some posts for my blogs on Sunday night, I spent time answering some of my readers questions, and I spent a small amount of time brainstorming viral methods of getting more traffic to our blogs.
Next week, I plan on catching up on some of the things I had planned on doing this week and I will be putting a lot more time into designing Jill and her brother's site next week.
Later…
I just created this fun post using this fake newspaper article generator. I found it by reading Darren's post about a fake article he created that caused him some grief.
It was fun creating this article, hopefully people realize it is a joke. There are two things you can learn from this:
1. Creating a fake newspaper article could get you some extra traffic.
2. Creating a fake newspaper article generator could you get TONS of extra traffic.
Just something to keep in mind.
Here is a simple formula that I have seen work for my websites in regards to making money:

GOOD CONTENT+GOOD LINKS = TRAFFIC
TRAFFIC = MONEY
GOOD CONTENT+GOOD LINKS = MONEY

In other words, the more quality content and quality links that my websites have recieved the more traffic they have recieved. The more traffic my websites have received the more money they have made. Therefore to make money on the Internet you need quality content and quality links.
Pretty simple formula for success on the Internet.
Over the next couple of weeks I am working on analyzing my business direction and deciding what to do next. Brainstorming business ideas and making decisions like this one have become a lot easier. I found a great free tool from SiteSell that helps you answer questions like the ones I have.
It's kind of funny that I found this tool, because I was just thinking that I needed a tool like this. Anyway, it's called Choose It and it's WAY COOL!
I took it for a test run to see what would happen and here are my results.
First, I had to decide what I wanted to choose between. So I decided to try and find out what would be the best type of business for me start if I were to start another online business. (Note: for this quick test I didn't put in all the questions that I would really need to ask.)
On the opening screen of Choose It you are asked to type in a question. My question was:
What should my next online business be?
Then I clicked the right arrow to go to the next screen. The next screen had a list of answers. For testing purposes I typed in the following answers:
1. another blog
2. adsense website
3. ebook
4. consulting business
5. forum
Then I clicked the right arrow to go to the next screen. The next screen asks you to list what is important to you and next to each answer score how important it is on a scale of 1-100. For testing purposes I used this post as guideline for my answers. I typed in the following things:
1. time – 90
2. $1000/day – 90
3. wife and I work together on – 80
4. Enjoy doing it – 80
Then I clicked the right arrow to go to the next screen. The next screen asks you to score each answer.


Click here to see a screen shot of how I scored each answer.
Then I clicked the right arrow to go to the next screen. The next screen shows you the results. Here is a screen shot of the results: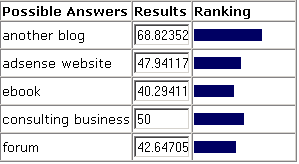 As you know, I am involved in quite a few things right now, so it will probably be another 6 months (at least 2 months) until I start up a new business. Also, if this weren't a test run I would factor in more things into my business decision. I would add more possible online business ideas, and break them down into their niches. The list might look something like this (just an example):

adsense informational site on hummingbirds
adsense forum for hummingbird enthusiast
adsense dating site for Illegal Immigrants
paid forum for UFO abductees
membership site for Ant lovers
NFL football blog
homeschooling blog for Dads
ebook about homeschooling for Dads
ebook about the treatment and care of Cheetahs

From my test run you can see how cool this decision making tool is. I really enjoyed using it and plan on using it soon, because I have a lot of business decisions to make over the next couple of months and I can see how this will really help me make those decisions.
I thought I would write a quick post regarding what I did this week for our online business.
For the most part this week I have been keeping up with our blogs (posting and promoting them). I also discovered that I really enjoy writing about the NFL, but I don't enjoy writing about other sports nearly as much (probably because I don't follow them as much anymore). So I don't know if I am going to change the direction of that blog or start a new NFL blog or what. Right now, the Positive Sports Blog is really lacking direction and that will need to be fixed. For the moment, I have decided to only spend time writing posts on it that I am excited about writing.
I have spent some time analyzing the direction of my business.
I also spent some time designing Jill and her brother's new website. I am waiting on the copy before I can do much else with it though.
Lastly, I spent some time going through Robin Good's list of blog directories and submitting two of our blogs (http://summerolympicsnews.com/ and http://winterolympicsnews.com/) to some of those directories. This has been on my todo list for a while.
That is pretty much it for the week. Next week, I plan on continuing with the things above and trying to find some better ways to manage my time.
Later…
Last night, I listened to the podcast interview of Markus Frind who makes 10,000 dollars a day from Adsense. Go listen to it for free here.
I found out about the excellent free podcast from Darren Rowse's post here.
Markus gave out some excellent information. In case you don't remember, Markus is the guy who I wrote about in this post. I also wrote a newsletter breaking down some of his advice. He has some great advice for all of us looking to make lots of money online.
Yanik Silver is going to release a limited run of videos from his recently held second Underground Seminar.
If you want to get on his mailing list to find out the details then go sign up by clicking here. Since I couldn't make it to the seminar I am looking forward to the videos. I wish Yanik was not limiting the number. I know limiting the supply causes more demand for the product (scarcity marketing), I just hope there are plenty available and I hope they are set a good price.
We shall see…
I just finished reading the latest post on Michel Fortin's blog (which I read regularly) and it was extremely helpful. I mentioned a couple of weeks ago how helpful his post on long copy vs. short copy was. Well, his most recent post on long copy vs. short copy helped me even more, because there are some great examples in it.
I am going to have to forward it on to my wife Jill and her brother Paul, because Paul is in the middle of writing the copy for their new business. I think that using the information Michel provides will really help us with sales.
Anyway, I recommend everyone who wants to sell on the web, go check out this post from Michel by clicking here.
I have done some analysis of our blogs and I have decided that we have three blogs that I will spend significantly more time promoting than the others. I based this partly on their potential and partly on their current earnings.
For competitive reasons, I am not going to discuss which blogs I will spend more time promoting. Jill and I have been able to guess which blogs were going to be quicker successes than the others. Our guesses have proved to be true. There are three other blogs that I plan on spending time promoting also. I will spend very little time promoting the other blogs, although I will continue to post to them.
I have quite bit of analysis left to do on the direction of our businesses and I am not sure I will finish up in a week's time. I do think that by the end of the week I will have a much better idea if we are heading in the right direction. This will allow me to make some changes to my business priorities after this week, which will help us earn more money with our web business.
Making a business plan and having business goals can really help you earn more money online. Tracking your progress and making adjustments (like I am currently doing) can keep you on course and help you reach your business goals faster.